Hi Ruth,
I love it when mentions of your daughter pop up on your blog — you're obviously a great mum! My husband and I are planning to try for our first child soon. Among all the other bits, it's obviously a huge financial undertaking (especially with the cost of living right now). How do we prepare our finances for becoming parents? I have no idea where to start!
Thanks for your kind words. I am doing the best I can with the information at hand, meaning I'm making it up as I go along! So far, so good! Over the years, I thought about what I would do differently regarding the financial aspect of preparing for parenthood.
Make a strong financial foundation for your family unit
The first place I would begin is making sure that my financial position was as rock solid as possible because that would allow me to have certainty over that part of my life. I could think of nothing worse than having a baby and then learning to communicate with my spouse about money and budget. That scenario has drama written all over it.
When one of you stops to care for your baby, the dynamic between you changes in all sorts of ways. Money can create a wedge between you if you let it. Long before a baby arrives, you need to discuss openly and in detail just how the money will work for you as a couple. I'm in favor of combined finances so that any money coming into the home, no matter who earned it, is family money to be used for the good of all. If you do things differently, you need to discuss how it will work. You both must feel a sense of control over your situation, have an equal say and understand where the money comes from and goes, and know that you are both spending in line with your goals and values as a family. I think that is the most essential part. Having a baby is wonderful, but it's full-on too. Being 100% united with your financial situation means that money is the least of your worries. Working out how to get your tiny human to sleep is more important right now.
Long before the baby arrived, if I were in a relationship, I would:
Adjust to living on one income and work to a budget using PocketSmith
Be clear about where our money was earned and spent and openly discuss it with my spouse, and discuss what will stay the same and what will change
Have an emergency fund of six months of expenses
Be already saving towards known upcoming costs, including extended leave from work
Keep adding to the retirement accounts of the parent who is away from work
Even if the parent who is staying home is still receiving maternity leave payments, I would try to live on one income. Why? So that if anything happens and you cannot return to work, you know you can cope financially. Test yourself. I know this is an enormous ask, given the cost of housing and higher rents and mortgages, but if you know that you would struggle financially if both of you couldn't work, it's better you understand that now than after the baby arrives.
Plan for the worst and hope for the best. In an ideal world, your baby will be perfect and hit every milestone. But if they don't and need you at home for longer, I want you to be financially prepared so that your priority is on what is best for your baby, not how you will survive financially.
Seek out support opportunities — professional or otherwise
I also encourage you to talk to various parents about funding and support available to you both before and after the birth. Speak to your employer about how maternity leave works, and seek out the advice of government agencies about paid parental leave, financial support pre- and post-birth, and for future daycare costs. From what I understand, if you are returning to work, daycare costs are high, so before the birth is an excellent time to understand these costs and look into all available options. For example, while I was home with my new baby, I also looked after my one-year-old niece (for free) so my sister could return to work. We had the best fun, and the two cousins have a strong bond as a result.
Ask your doctor, midwife, or specialist what costs you are likely to expect, what is provided for free, and what you must pay out of pocket. Very early in my pregnancy, I was advised that I would need specialist care at my own cost. The early warning and the fact that we had laid a solid financial foundation and still had two incomes meant we had plenty of time to save up for this expense. I was always grateful for the early advice which let me remove the financial stress from the situation.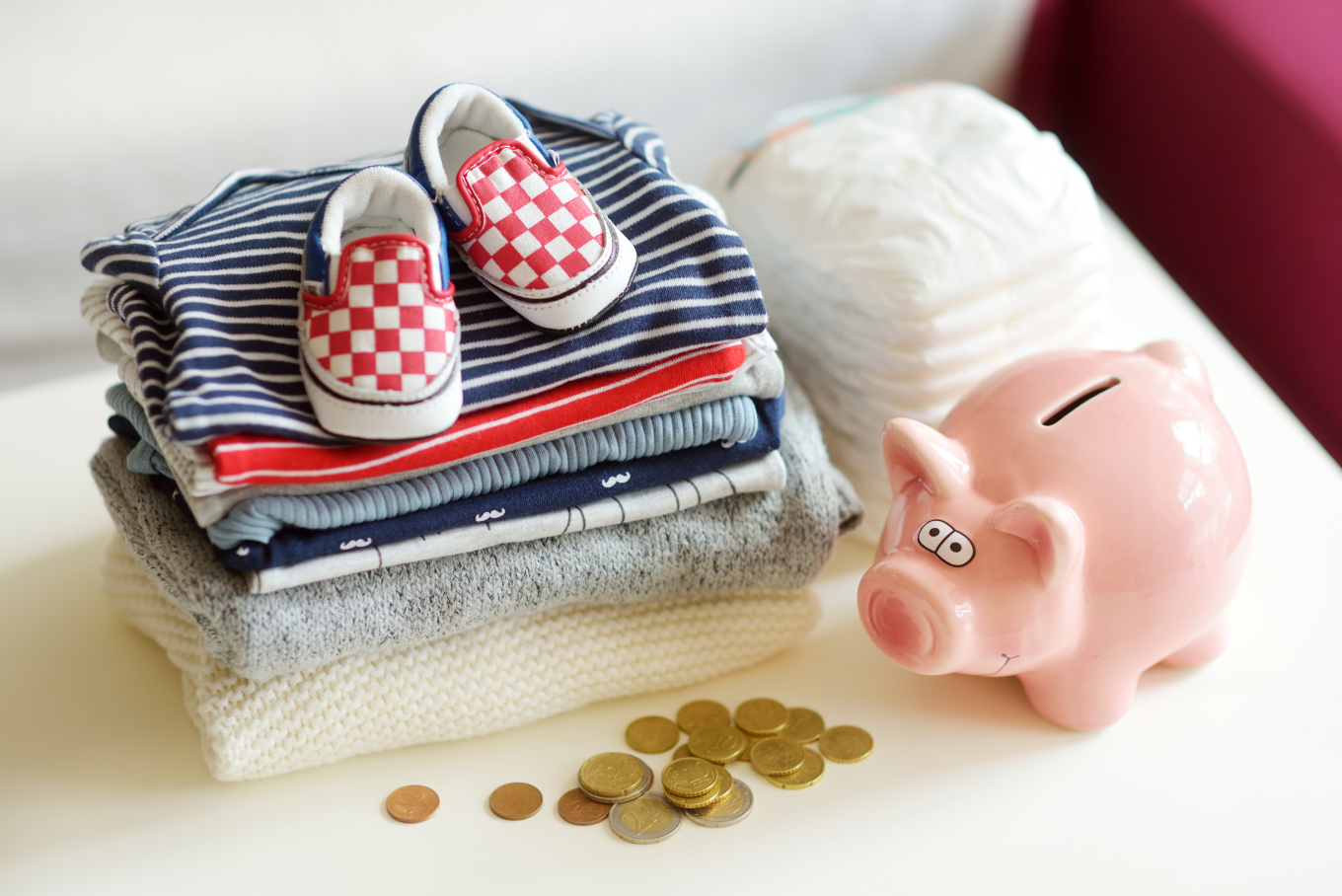 If I have any regrets, we probably wasted money on items we never used or used infrequently. Our pram cost the same as a cheap used car! I mistakenly asked other parents what they would advise me to buy and then set out to buy everything they mentioned, not realizing that what they found helpful, I might not. It would have been better to gather the basics and shop as needed.
And by the shop, I also now realize that there is an extensive underground network of other parents who, like me, also bought every single thing any other parent mentioned! All it would have taken was for me to ask around for the item I needed, buy second-hand, or accept gifted items. Babies, toddlers and children grow so fast that they rarely wear anything out, so I'd encourage you to snap up things you know you need at a fraction of the price. In most instances, parents are delighted to get unused and unwanted items out of their houses.
Often we have babies at a similar time of life to our friends so that we can form connections with other parents and trade items (and childcare). The handiest thing you will ever find is a friend with a baby of the same sex, six months older than your own! You will find you have a ready source of hand-me-downs. And advice!
There were things I wanted to buy new, particularly safety equipment like a car seat, but I could have sourced a lot more second-hand. I recently met up with a friend who accepted every hand-me-down offered from several close friends. They are now fully equipped for their baby and have not spent a single dollar. Incredible! Not only that, but they have begun living on one income, topped up their emergency fund, and are now setting money aside for after the baby arrives. With family living overseas, they are now budgeting to fly them here for the birth. This couple are average income earners, but above average savers and planners.
Start setting aside for future expenses now
Once the baby has arrived safely, I'd encourage you to start setting money aside for them and never stop. Money will always come in useful somewhere. It took me some time to realize this was a good idea, but I now have a specific bank account for my daughter where an automatic weekly payment goes. I use this money for anything related to her, whether it be clothing, schooling, school supplies, or extracurricular activities.
You will never know all the costs your unique human will likely incur. Still, if you ask a few parents around you, you will begin to form a rough idea: Daycare, school uniforms, bicycles, musical instruments, laptops, endless pairs of shoes, and the list goes on. I've got friends who spend money on private schooling. Others spend money on a myriad of afterschool activities. While others, myself included, incur very few additional expenses. A regular savings plan can account for all of this. Only you know what type of spender you are likely to be, and the thing I've found helpful is that if you start early and save a little bit of money often, the cost of future expenses will be leveled out over time.
I hope that is helpful to you. Given you have asked this question so early on, I've little doubt that, like my friend above, you are people who also like to plan. You will be just fine, and when your baby joins you one day, embrace your new life. It's an incredible journey.
Got a burning money question for Ruth? Send them through to [email protected]!
---
Ruth blogs at thehappysaver.com all about how she and her family handle money. What's the secret? Spend less than you earn, invest the difference, avoid debt and budget each dollar that flows through your hands. She firmly believes that if you can just get the basics right, life becomes easier from there on in.