Early December 2022. The anticipation was palpable as I sat, hands poised on the keyboard, eagerly waiting for 11am. Determined to secure tickets to the hit musical Hamilton like hundreds of other Kiwi fans, I was waiting to participate in the notorious Ticketmaster pre-sale.
Pre-sale infamy and Taylor Swift
A pre-sale is a special sale of tickets to an event that is only available to a select group of people, typically before tickets are made available to the general public.
In an ideal world, pre-sales are a way for event organizers to reward loyal fans and customers with early access to tickets. In reality, as millions of Taylor Swift fans discovered to their dismay, pre-sales are anything but a fairy tale. In November 2022, fan demand for Swift's "Eras" tour pre-sale was so strong that it caused Ticketmaster's site to crash, disappointing fans who had waited for hours in the queue.
Swift later took to social media, saying, "It's truly amazing that 2.4 million people got tickets, but it really pisses me off that a lot of them feel like they went through several bear attacks to get them." This debacle occurred amidst an ongoing investigation by the US Department of Justice into antitrust practices by Ticketmaster's parent company Live Nation over monopoly concerns.
My pre-sale experience felt less like warding off bears, and more like discovering a swampy breeding ground for dark patterns — user interfaces designed to trick people into doing things they might not otherwise do, such as buying something they don't want or giving away personal information.
Dark pattern 1: The forced choice
In New Zealand, the initial Hamilton musical pre-sale was co-branded with Buy Now Pay Later company, Afterpay.
In my naiveté, I assumed that all I would need to do for the pre-sale would be to create an Afterpay account, enter some sort of pre-sale code, and then I'd be able to delete my account easily. After all, a musical written by champion of democracy Lin-Manuel Miranda would never force me to enter into a binding contract with a finance company, right?
Alas, no.
The Hamilton pre-sale not only required you to create an Afterpay account but also forced you to pay for your tickets with Afterpay!
So extreme was my need to get hold of those tickets I went against my instincts. I created an Afterpay account, reluctantly handing over my email address, mobile number, credit card account details, and NZ Driver Licence details.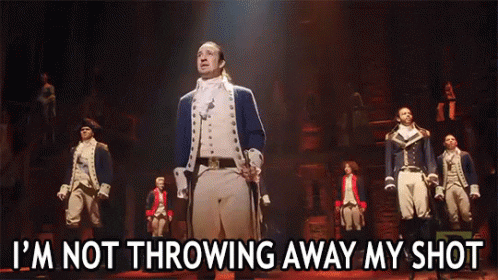 Once my Afterpay account was approved, I saw that I had an estimated $600 available to spend. Just like that.
Dark pattern 2: Countdown timers and the scarcity tactic
The second dark pattern I encountered was the scarcity tactic. Once in the pre-sale, I was given a 90-second countdown timer to select my seats. This created a false sense of urgency and made me feel like I had to act quickly to secure the best seats. However, once I selected my seats, I was informed that they exceeded the amount available on my Afterpay account. This meant I had to pay the difference upfront, without any time to think or compare prices.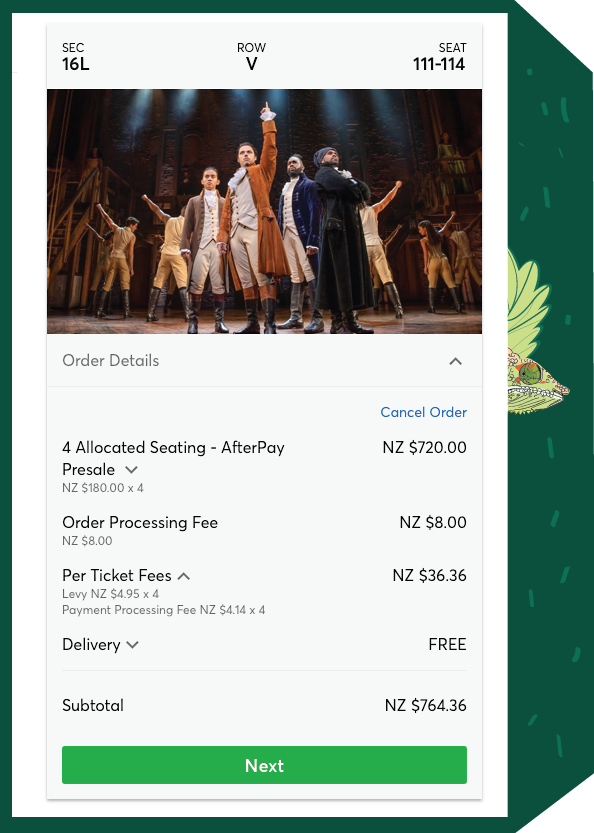 With the countdown timer still going, I quickly calculated to ensure that this totaled to and matched the ticket prices and service fees I was expecting. Relieved that it tallied, I clicked "Proceed", only to be notified that my transaction had timed out.
After all that, I still hadn't managed to get my tickets in the Afterpay pre-sale.
Dark pattern 3: The Afterpay cancellation trap
Still reeling from my lack of success in securing tickets, I encountered the third dark pattern when I tried to close my Afterpay account: The cancellation trap.
In the Afterpay desktop app, I clicked on my Profile, then on "Close my account". That's when a big wall of text appeared, explaining that I could only close my account via the mobile app.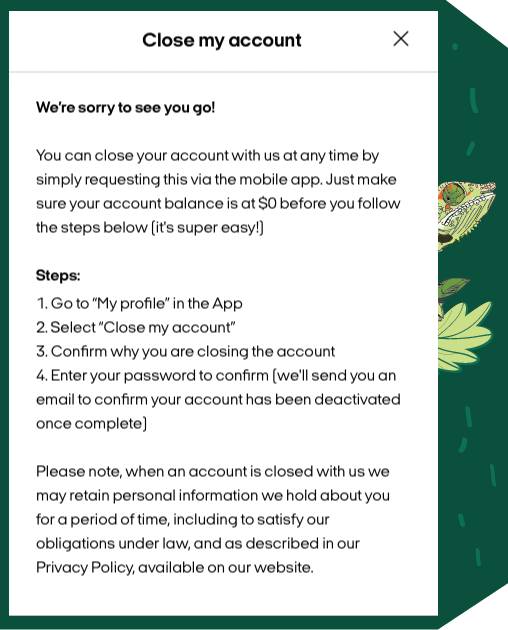 So, forced to download the mobile app, I navigated through it and clicked on "Close my account", where I learned that closing my account in the mobile app merely deactivated my account. Alarmingly, Afterpay still had all my information, including my Driver License number.
I googled "how to close my Afterpay account" to find the instructions. It turns out the information was located in the fine print of Afterpay's Terms of Service, paragraph 3.4 to be specific, where it states: You may request to close your Afterpay Account by contacting us directly.
Yes, you read that right. To close my account, I had to fill in a form on the Contact page, buried in Afterpay's footer.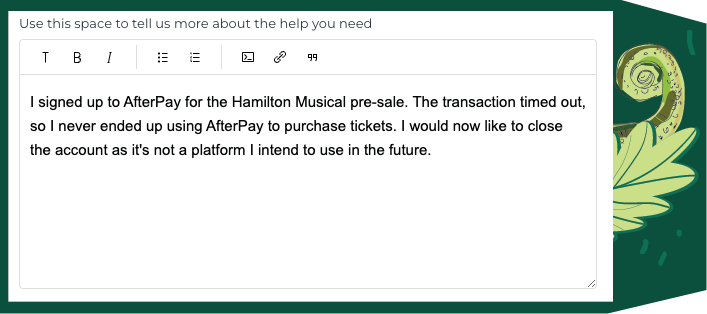 After I filled in the "I would like to close my account" contact form, I waited. To my enormous relief, it only took one business day for Afterpay to action my request. My account was finally closed, a moment of light in an experience that was tinged by much darkness.
Epilogue: I got my Hamilton tickets — in another pre-sale that only required creating an account with Ticketmaster. However, my brush with Afterpay disturbed me enough for me to share my experiences publicly. I know I wasn't alone in feeling trapped, and I would like to encourage others who feel like they have been a victim of dark patterns to speak up. Together, we can hold companies who use these questionable practices accountable and urge for a fairer and more transparent experience for all consumers.
---

Dora is Head of Marketing here at PocketSmith. She's the mum of two boys, and calls both Singapore and New Zealand home. She's obsessed with succulents, sci-fi and bubble tea, and is waiting for the day a novel will combine all three. Maybe she should just write it herself.