On the 7th of July, the Australian company Pocketbook announced that they will close on the 5th of August.
We've since been hearing from concerned customers who, in their haste, misread that WE were closing. Please don't worry — we're alive and well, and healthier than ever!
Yes, our names are similar, and we both produce personal finance software that is available to the Australian market.
Here's a quick run-down on how we differ from each other.
PocketSmith
Pocketbook
Years in operation
14 (2008 -)
10 (2012 - 2022)
We've spent years building a business that will be here for years to come, because we understand that financial journeys are measured in decades, not years.
Market
Australia and 190 other countries
Australia
Made with love in New Zealand, we love connecting with people worldwide and being a part of their stories. The inspiration we gain from one part of the world translates into value for another.
Subscription type
Free and Premium
Free
By charging a fair price for our services, we maintain a transparent business model and the ability to continue improving our product for you. We do not support the idea of selling customer data in exchange for offering a free service.
Ownership
Independent and founder-owned
Owned by Zip
My co-founder James and I still lead the company as CTO and CEO. Our vision and priorities haven't been diluted by a parent organization. We're all about our customers, our team, and our values.
Curious about features? Learn a bit more about why we're the ideal Pocketbook alternative.
What's in our name?
We're proud of our moniker, though we rarely find occasions to explain it.
Naming a company is a hard thing to do, and when we were founded in June 2008, we sought to establish a brand name that was fun, unique, timeless, meaningful, pronounceable, and spellable.
If the latter two criteria seem odd, you may have been fortunate enough to miss the decade that brought us startup names like Thoof, Diigo, Heekya, Sclipo and Oooooc.com.
PocketSmith is the combination of: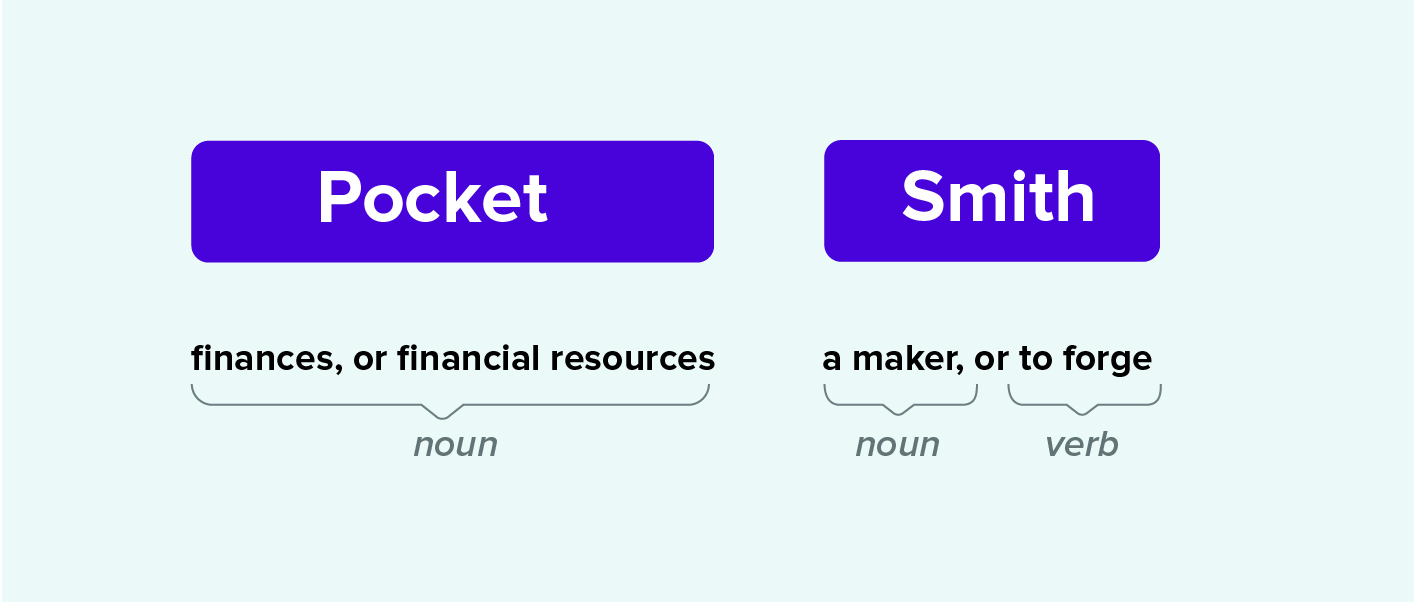 And we'd like you to take it as you wish. For some, our product is a PocketSmith, helping them craft their finances — for others, it helps them be a PocketSmith, forging their custom financial insights and outcomes.
However you see it, our intention across both interpretations is the same. We're out to make the best tools to give you greater capabilities and control over your personal finances.
Why?
Here's a fundamental one that isn't just about making more dollars and cents.
We humans are complex creatures, and though the invention of money has moved us ahead as a civilization, we still lack a collective instinct that ensures we're nourished, and not poisoned by it.
When we set about making solutions to the challenges we see in the rapidly-changing space of personal finance, we're playing our part in the evolutionary chain by creating technology to influence our progress in a positive way.
One of our rewards is having the privilege of being a part of our customers' remarkable journeys. We've helped newlyweds Ellen and Max combine their incomes, kept Dan's "go go go!" household of four under control, tracked digital nomad Connor's growing global empire, conquered Nicole's taxes with her out in a gold mining town in WA, and helped Chief Grocery Officer Tara buy her first home.
We also believe in growing our business sustainably. While this may mean that we invest carefully and take our time, we maintain control over our decisions and we don't risk imperiling our customer experience and culture.
The flames of our forge burn as brightly as they did on our very first day. Yes, that's unabashedly cheesy. And yes, the doors to our workshop are wide open, and we're still very much here for you.
---

Jason is the CEO and co-founder here at PocketSmith. He is fascinated by our unique relationships with our money, and is passionate about making peoples' lives better through the technologies we craft. He's been a sneakerhead since the 80's, and loves gardening on sunny days while listening to Planet Money.