First up, congratulations on becoming a homeowner! We'd love to hear a little about your property.
The house is situated in Hawea, a small town about 15 minutes drive away from Wanaka. [For our international readers, that's in the South Island of New Zealand.] It has four bedrooms, two garages, and a huge backyard. It's surrounded by mountains and has a view of the lake. It's a beautiful place.
There's lots of capacity to have guests over. In fact, over Christmas and the summer, we had more than a dozen people staying every night for several months, and it was great.
You've done something that some of our readers might be considering themselves. Can you tell us more about what led to your decision to buy a house with friends?
I co-own the house with three friends. Greg and Rimma are a couple, and then there's me and another friend, Margot. We all know each other from the climbing and festival communities, share a love of the outdoors, and have similar life values. It's pretty hard to articulate, but we all try to be open, adventurous, and non-judgmental. Also, our social circles are pretty similar, which means we have lots of people coming through to stay, which I really like.
We bought the house during the Delta lockdown of late 2021. Greg and Rimma were in Wanaka on holiday. They decided to stay put when the lockdown happened, and looked into real estate there. When they saw the Hawea property, they rang me and asked if I was serious about buying a house with them. On a previous climbing trip, we'd discussed the possibility of purchasing a property together.
So when they rang to ask about the house, I just said, "sure." I didn't put a whole lot of thought into it. It was essentially this: Greg and Rimma are great people, and I have a whole bunch of money in my account. So why not? It was either that or buying a van in North America and Europe! [For context, Derek is currently in the longest work stint of his adult life.] I then told them that I had also discussed — very vaguely — buying a house in Wanaka with a friend of mine, Margot, so if they wanted a fourth person, one might be willing and able.
We took ownership of the house in mid-October, and I moved down from Wellington at the start of November. Since then, all four of us have been living together.
What are some of the benefits of buying a house with friends?
One significant benefit is the increased leverage when you combine incomes with others. There's no way I could have afforded the deposit on this house.
Another benefit is that we're all invested in the house. If you're a tenant, you don't care as much about whether you scratched the wall. When you own the home, it's in everyone's interest to maintain and improve it.
Greg is skilled in DIY and constantly adds improvements to the property, like a pizza oven and shelving in the garage. The rest of us have insisted that he charges us for his labor because he's adding value to the house. But because he's so generous, I think he charges us a really conservative amount!
Everyone tries to bring something to the house. Margot loves gardening, so she looks after that and grows tomatoes, kale, and lots of different herbs. I take photos and have put up some massive panoramas on canvas around the house. Rimma and Margot are both very enthusiastic sourdough bakers.
And lastly, another benefit is just sharing the company of people you like. Three of us work remotely from home, and it's nice to know that there are people around, so you're never quite on your own all the time.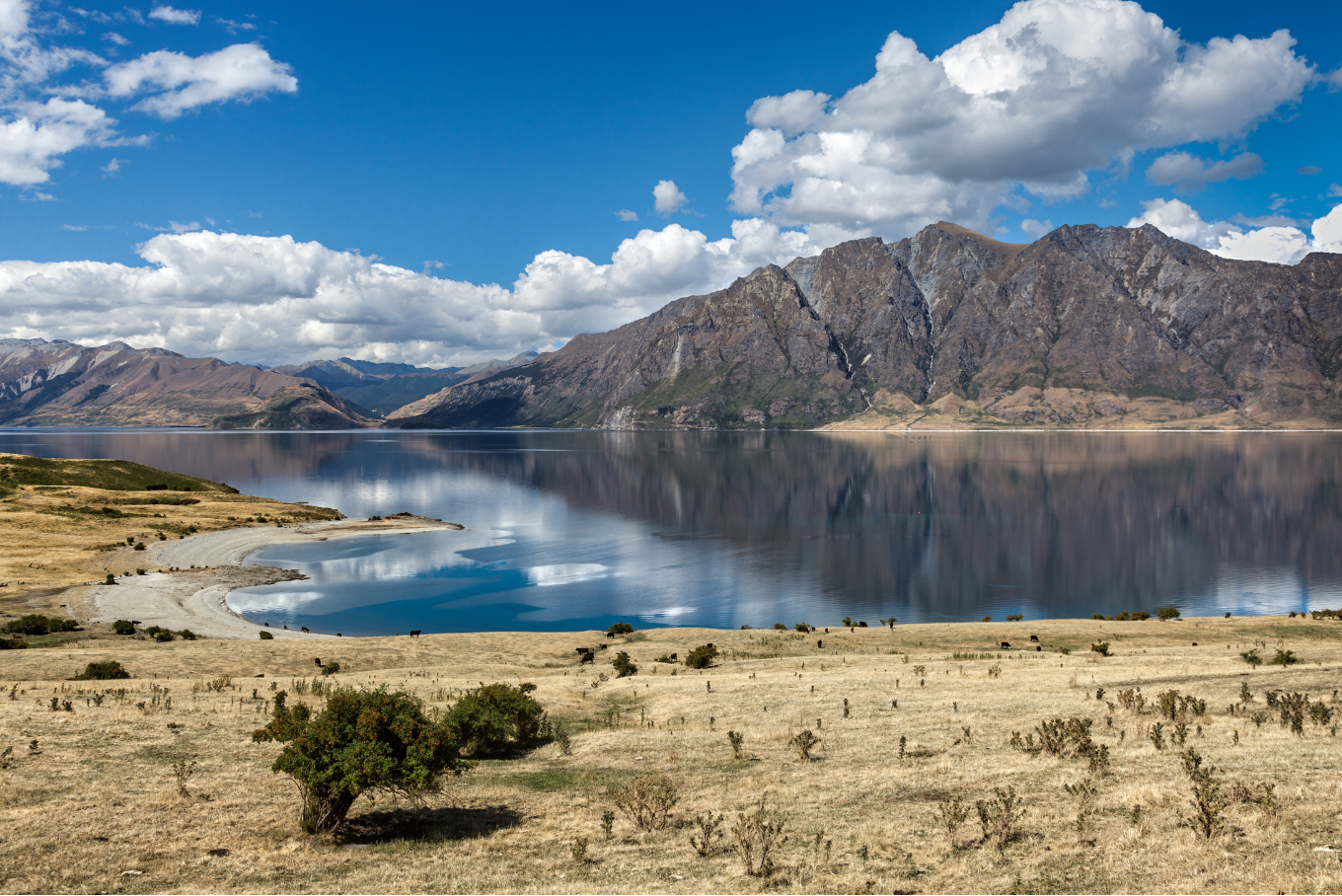 Beautiful Lake Hawea, where Derek lives after buying a house with three of his friends.
And what are some of the risks?
The worst-case scenario would be if I decided I didn't want to live there anymore. Like if, for whatever reason, I hated the people I lived with or became suddenly extremely allergic to lake views from my bedroom and all-day sun in my room.
Before this, I lived in Wellington in a tiny little room with a view of a retaining wall, so I was comfortable taking the risk!
What sort of conversations did you have with your friends before you made the decision?
We've had lots of different conversations covering a range of scenarios: from what happens if the couple breaks up or decides they want to have a kid, to the possibility of one of us losing our jobs or deciding to go overseas for an extended period.
Were there any legal considerations you had to factor in?
Friends of ours passed us a co-ownership contract. These friends — four couples — had also bought a house together. So we used that template and adjusted it for us. We've since shared our contract with other friends who are also buying as a group.
All the key issues that cropped up in our conversations are captured in the contract, including:
Setting up an emergency fund that we have to put money into to cover scenarios where one of us is suddenly out of work and can't pay the mortgage.
What happens if one of us decides to sell our share of the house. Essentially, we would have to offer it to the existing co-owners first. If we can't come to an arrangement, that can trigger a sale of their share of the house to someone the rest of the owners agree on.
Household administration, like paying for insurance, utilities and home maintenance.
Before we signed the contract, we had our own lawyers look at it, and they didn't spot any red flags.
Before I bought the house in Hawea, I was paying $200 a week for a single room in an inner-city apartment in Wellington, which was considered quite cheap. I am now paying less in my weekly mortgage payment than I did for my rent and get all-day sun plus a view of the lake and mountains. There's no comparison, really. It's a no-brainer of a decision.
What about mortgage considerations? Did you have any issues with lenders when they learned it was a group of friends buying a house together?
We each had a conversation with the same Lending Manager at the bank before they approved us. It was pretty straightforward. He looked at what we earned, what our expenses were, and ran a credit check on us, and said, "You're good to go."
So now we each have individual mortgages with the same bank. Our mortgages are the same amount, but we all have different repayment arrangements.
Is there one person that tends to be the household financial administrator? Or do you contribute equally on that front?
We've set everything up so it happens automatically. Three of us cook together, so we have weekly food payments going into an account. All of us have put in weekly payments into a utility account. We pay for the insurance every year. So it's relatively automatic, and we don't have to think too much about it.
What tips or advice do you have for someone considering purchasing a property with their friends?
I think buying a house as a group of friends gives you many options because you have a greater pool of money. You'll be able to access and afford properties that you otherwise wouldn't be able to.
But I would probably say the most important consideration is that you like the people you're buying the property with. You're going to live with these people potentially for a very long time, and you would want to be as confident as possible that things will work out.
For me, my thinking was: these guys are my friends. They like festivals and music. We have big bookshelves. We have a piano and a guitar in the house. There's several rows of mountaineering boots in the garage. It would be a house that I would walk into and go, "Oh, my tribe lives here."
Anything else to share with our readers?
We've been living together in a situation for five months now, and things are going well. We have various issues that every flat has, like people having different levels of cleanliness that they're willing to tolerate. But in general, things are going really well, better than I could have hoped for.
Before I bought the house in Hawea, I was paying $200 a week for a single room in an inner-city apartment in Wellington, which was considered quite cheap. I am now paying less in my weekly mortgage payment than I did for my rent and get all-day sun plus a view of the lake and mountains. There's no comparison, really. It's a no-brainer of a decision.
Lake Hawea photo by Philip Bird LRPS CPAGB via Canva