I can't remember a time when I didn't know the term "drinking the Kool-Aid". I always thought it sounded kind of neat, an expression so inherently American that it was definitively cool to my adolescent self. That was, of course, until I finally gained critical thinking and realized that it originates from the horrific 1978 Jonestown Massacre. These days it's synonymous with the Silicon Valley-esque nature of a lot of tech companies, where if you don't evangelize the company line in the form of long hours and a work-life imbalance, then you're not a valuable employee.
Having experienced that culture through close contacts and firsthand myself, it's safe to say that I'm a Kool-Aid teetotaller. But as I reached the end of my first few months here at PocketSmith, I thought I would employ a bit of mindfulness and reflect on the beginning of this new journey for me and how I was feeling about it. Has there been Kool-Aid for me to drink? And have I merely sniffed at it, or guzzled it with reckless abandon?
After two years at my previous job, October 27 marked my first day as part of the PocketSmith team. In a year of major unrest, I didn't set out to rock the boat. I almost felt guilty, unconsciously on the lookout for a new job when I was fortunate enough to have steady employment when a lot of the community didn't.
But who am I to ignore serendipity? When a job listing proclaiming a "search for a storyteller" popped up on my LinkedIn feed from a mutual connection, I had to check it out as a curious type of gal. The position description was so unlike the many hundreds I've trawled through in my life, and it was utterly refreshing. No rigid KPIs, no boxes to be ticked, no utterance of buzzwords like "fast-paced" or "self-starter".
Concentrating more on personal attributes than a laundry list of proficiencies, it was clear that I would be in good hands with PocketSmith. As a company that built individuality into its ethos, it's filled with kind, considerate and unique people who made me feel at home immediately. There was no lengthy period of making small talk and wondering who I would sit with for lunch, it was straight into friendships made and being as weird as possible. I had found my people!
Nothing remotely boring about our workplace culture
Right off the bat, it was obvious how much PocketSmith cared about their company culture. It's no secret that a workplace built on strong values and good communication reaps the benefits of increased engagement and productivity, but it's also imperative to employee health. It's arguably twice as important in a company where working remotely is actually the norm, and the positives that in-person offices bring to company culture aren't necessarily applicable. And the leadership team has done an outstanding job building in systems to keep PocketSmith highly functioning and highly motivated.
Asynchronous conversations for every occasion
PocketSmith has always been a proponent of flexible working, many years before covid-related lockdowns forced companies to realize it was a viable option. With the majority of the team working around the country, and only a small handful working in the Dunedin office five days a week, we are truly a digital space. And while we have a broad suite of tools to get the job done, the business communication tool Slack is our lifeblood. In lieu of a sickening amount of emails and Zoom calls, most of our correspondence happens in channels with specific subject matter on Slack – so no more being inundated with conversations you don't need (or want) to be privy to. There's also a bunch of "funsies" channels, where non-work banter is not only allowed but encouraged. Whether it be music, cute cat pictures, food or video games, an environment where swear words and explicit memes prompt unanimous laughter, rather than a trip to HR, feels healthy in an open and honest way.
Working flexibly with a time bank
It's not just how we're using Slack though, it's what we're using in it too. Timebelly is a bot integrated on Slack, that acts as a time bank that allows the team to be more flexible with their working hours. Each team member has a Timebelly account into which they can deposit or withdraw hours. Say you have a doctor's appointment, or you just want to leave early because it's a nice day. Take the hours from your Timebelly, no questions asked! Or maybe you've gotten too into the groove, and you end up working 40 minutes past clocking off time. Add that time in your Timebelly to be used another day! It's a totally different take on flexible working hours, but the improvement to work-life balance has been actively life-changing.
[via GIPHY]
Upskilling is built into the job
And while we have the freedom to work how we want, we can also contribute to the business outside of our designated roles. Engineering gets involved drafting customer service responses, Marketing can be part of discussions around UX, and members of the Customer Support team get to put their design skills to use. I even get to do a small bit of coding, which makes me feel like a hacker straight out of a movie. It's a brilliant example of symbiosis – the team gets to upskill themselves while the company improves retention and boosts morale.
The legendary 'PocketCon'
The beginning of my employment also coincided with the final few weeks countdown to the annual company conference, which they've given the charming name 'PocketCon'. It's a week-long celebration where everyone descends on Dunedin to eat a lot, drink a lot and have as much fun as possible. There are your bread and butter activities like strategy planning, but it's also hugely unique in the emphasis there is on team bonding and getting to know each other on a personal level. A good chunk of the week is spent on sessions where PocketSmithers present talks on ANY topic that their heart desires. I of course took the opportunity to immediately show the team my deviance by doing a presentation on 90s icons that I wanted to hook up with. An event of this magnitude, as well as this much love and care, is the magnum opus of a team dedicated to a positive work environment that employees can be proud to be a part of.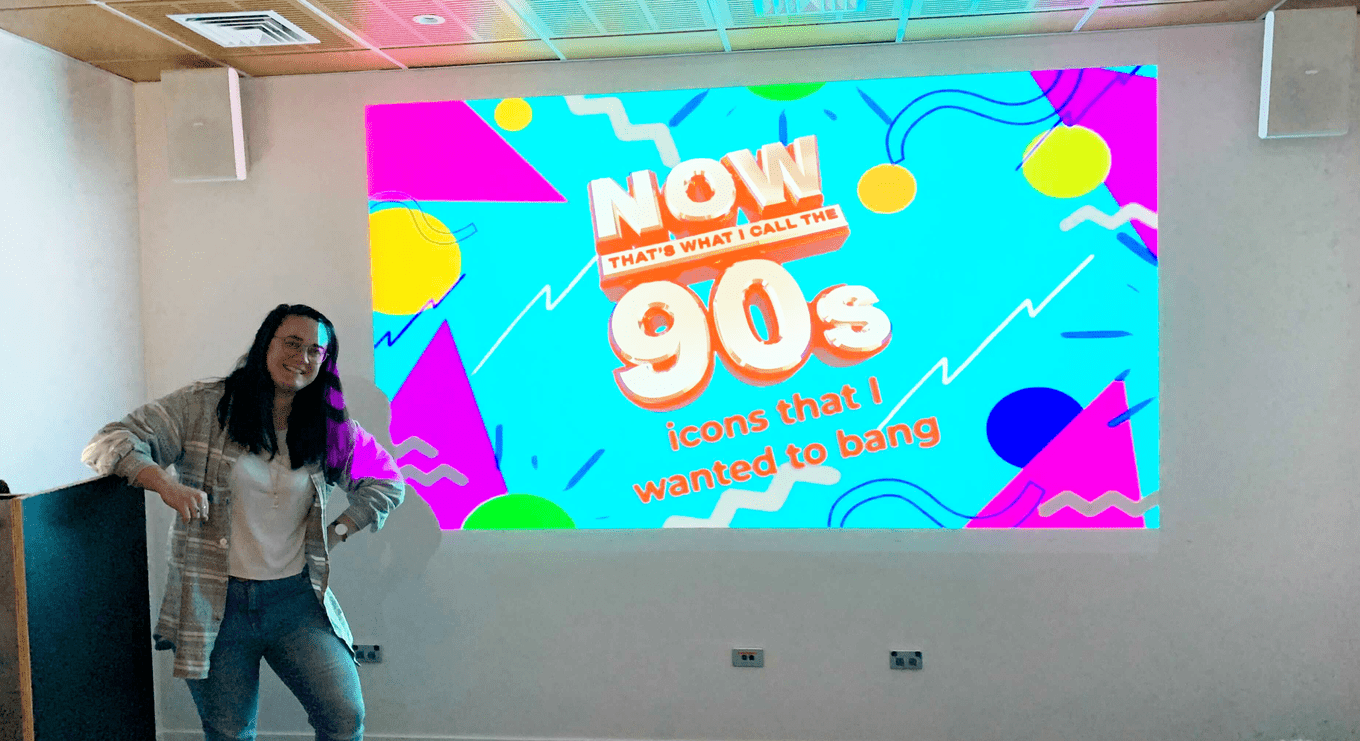 My first few months at PocketSmith have been nothing short of fantastic. Starting a new job is always a tough time, no matter where you're working or how old you are. But I've struck it lucky with the team and company culture I've somehow managed to finesse my way into. And I'm looking forward to all the months ahead!
So back to my original question: have I drunk the Kool-Aid? Like a fussy child, I have my mouth tightly sealed and I'm still refusing to drink. But that's okay, because PocketSmith doesn't serve Kool-Aid at all. It's more of a crisp rosé or ice-cold homemade lemonade, brought to me on a hot summer's day, to be drunk or not drunk at my leisure but nonetheless shared with my team around me whose cups are also full. And I'll cheers to that.
---

Chloe is PocketSmith's Content Marketing Specialist, and she loves that she gets to combine her love of telling stories and technology. In the office, she's drafting a pun-filled post or debating emojis. Outside of the office, she's collecting comic books, listening to music and suffering through Bulgarian split squats at the gym.