[Update: 8 August]: Pocketbook shut down its app on 5 August, so you will no longer be able to access your historical data. This article is a guide for folks who already have a CSV download of their Pocketbook data. If you don't, not to fret! You can still have a great PocketSmith experience by connecting your bank accounts and importing transactions from over 163 institutions in Australia.
To get started, you can either follow the instructions below to start with your Pocketbook CSV data, or you can start afresh with 50% off your first two months of PocketSmith Premium or Super.
Welcome, friends!
We're so pleased that you're here, reading this guide! PocketSmith has a range of tools that makes moving from Pocketbook a breeze. In this blog post, we'll walk you through getting your transaction data imported via the Pocketbook Express, then using our auto-budget tool to set up your budgets based on past spending, and getting your accounts hooked up to a feed again.
A bit of background: we've been fully independent and bootstrapped since we were founded in 2008. Many other personal finance companies have come and gone since then, but by building the best tools that we'd be proud to use ourselves, we're focused on building a company to last.
Let's get one thing out of the way: PocketSmith is primarily a premium application. We only make money through people like you paying a fair price for great software — no tricks, kick-backs, or selling of user data here.
We have a free plan which is excellent for people with simple needs, however, bank feeds are only available on paid plans. If you're looking for a completely free application with bank feeds, you'll be best served to look elsewhere (keeping in mind the adage that if you're not paying for it, you are the product).
With that said — we're running a limited-time special promotion, exclusive to ex-Pocketbook users. Follow the steps below, and the offer will pop up as you work through things. We can't wait to get you started, so let's move on!
Step one: Export your data from Pocketbook
Pocketbook provides you with a CSV file that you can export. The export contains all your transactions, categories, labels, and financial institutions stored in Pocketbook. You can import this CSV file into PocketSmith to get all this data imported at once. Just follow the steps below:
Sign in to your Pocketbook account.

Head to the Transactions page.

Click on the Export (CSV) button at the bottom of the left-hand sidebar of Pocketbook's transaction page.

This will start the download of a CSV file containing all your Pocketbook data. Save this to your computer and move on to the next step!
Step two: Import your Pocketbook data into PocketSmith
Once you've created your account at PocketSmith, you're all set to get your Pocketbook data imported. We've got an express import tool that accepts Pocketbook CSV data files and creates all your existing categories, transactions, accounts, and financial institutions you had with Pocketbook.
If you've just started, you'll be on the "Let's get started" screen. Click See more > at the bottom of the screen, then click the Import from other app button. A "Move from another app" popup will be shown — click the Pocketbook logo.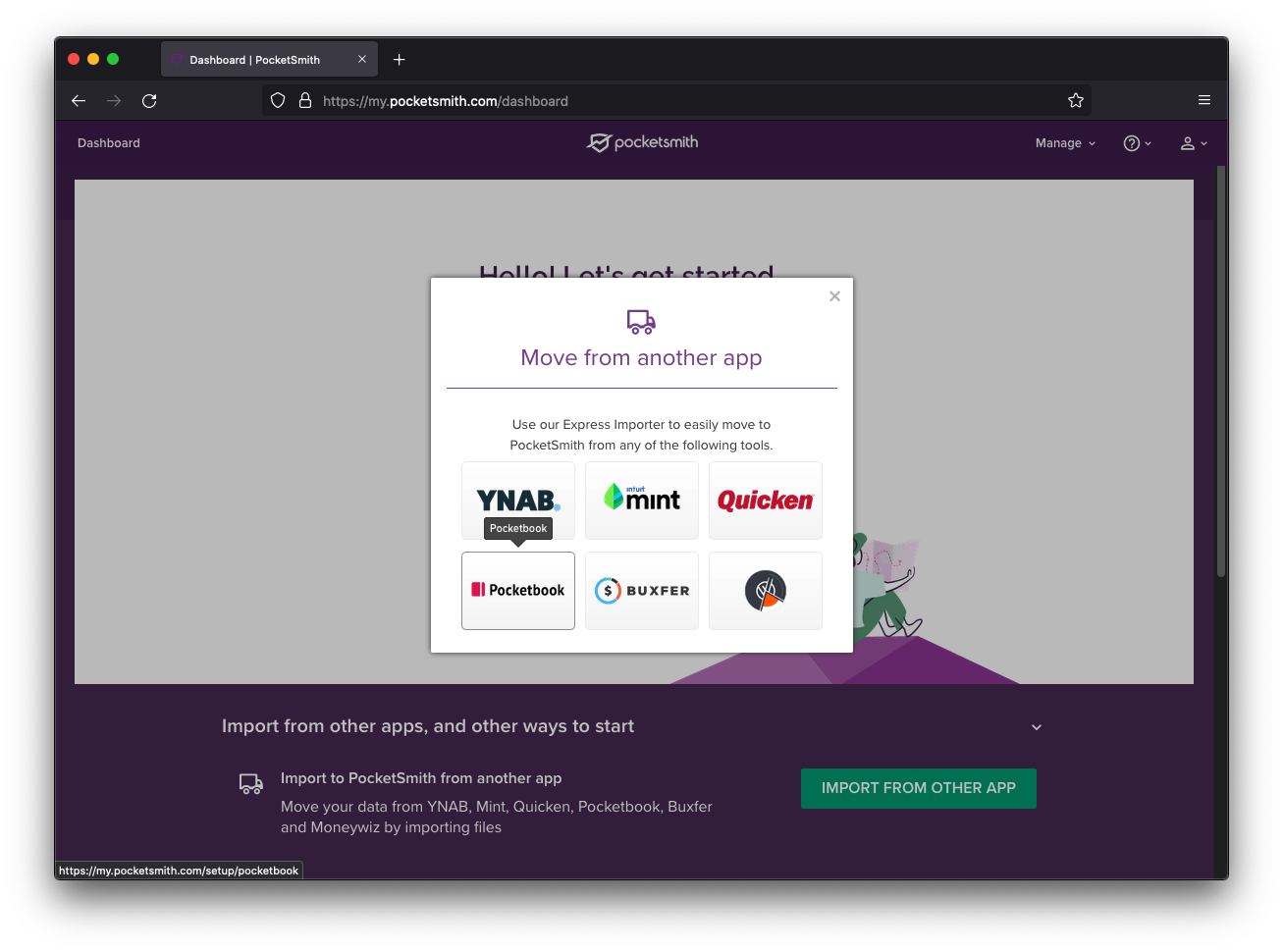 The import from Pocketbook button when starting
If you've already started getting set up, you can head straight to the Pocketbook express import tool. You'll get the option to clear existing data when you import.
Upload the CSV file you downloaded from Pocketbook, and follow the prompts. Your transactions, accounts and financial institutions will be imported, along with your categories as they were in Pocketbook.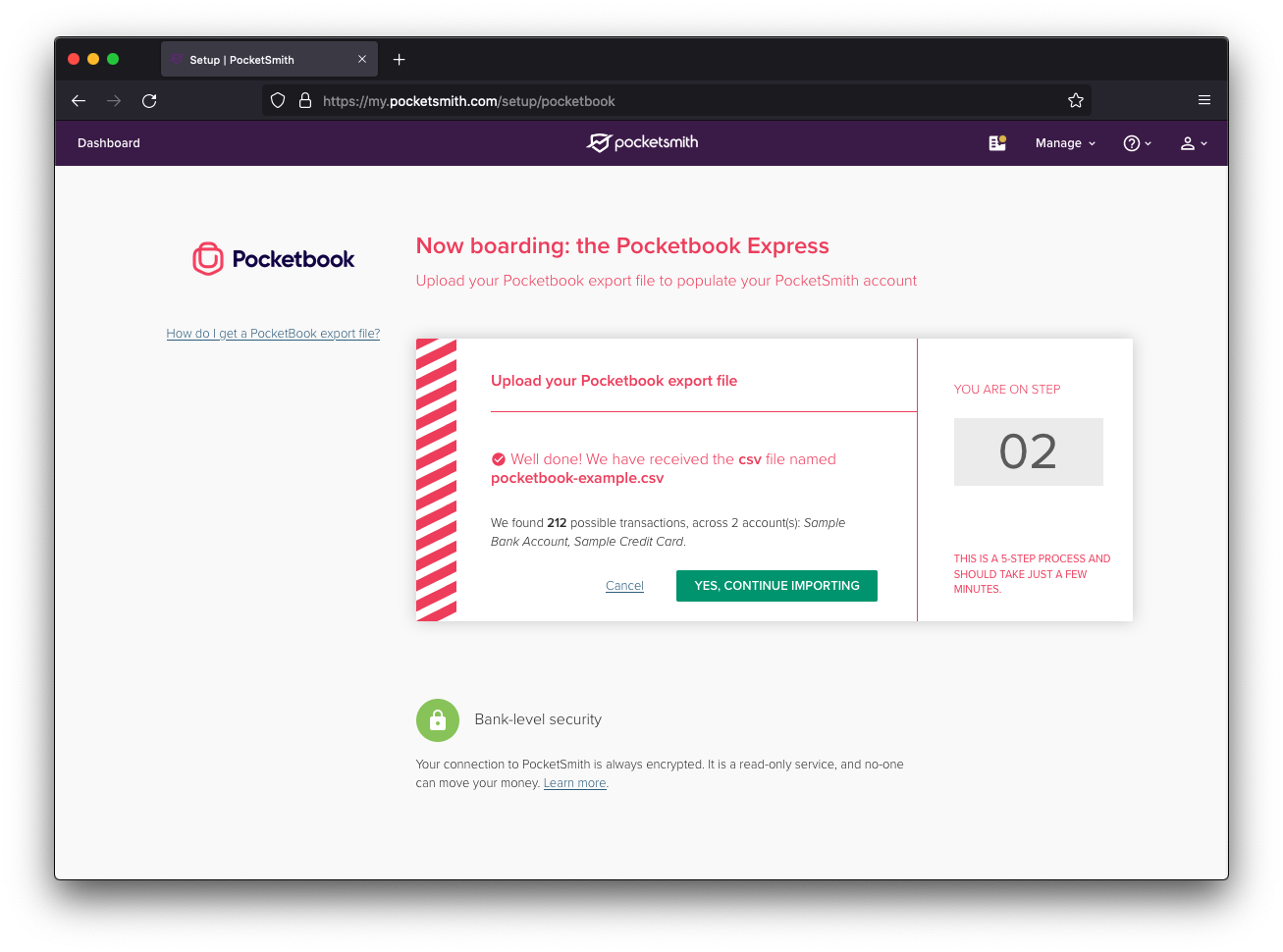 Import from Pocketbook confirmation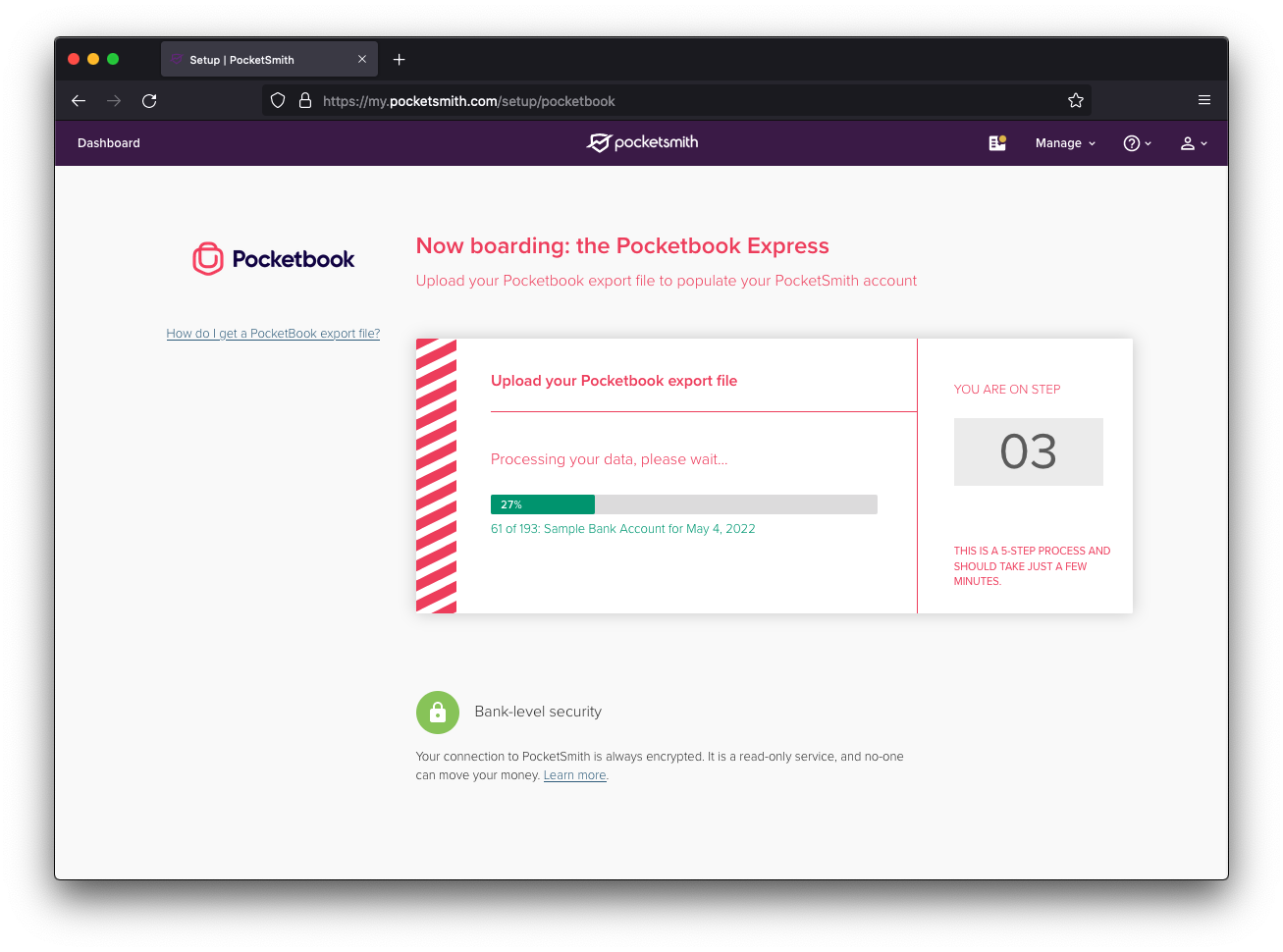 In progress import from Pocketbook
Set your balances. Once your data has been imported, you'll need to set the current balances of the imported accounts as the CSV file from Pocketbook does not contain this data. This ensures that the balances within PocketSmith are correct immediately after import.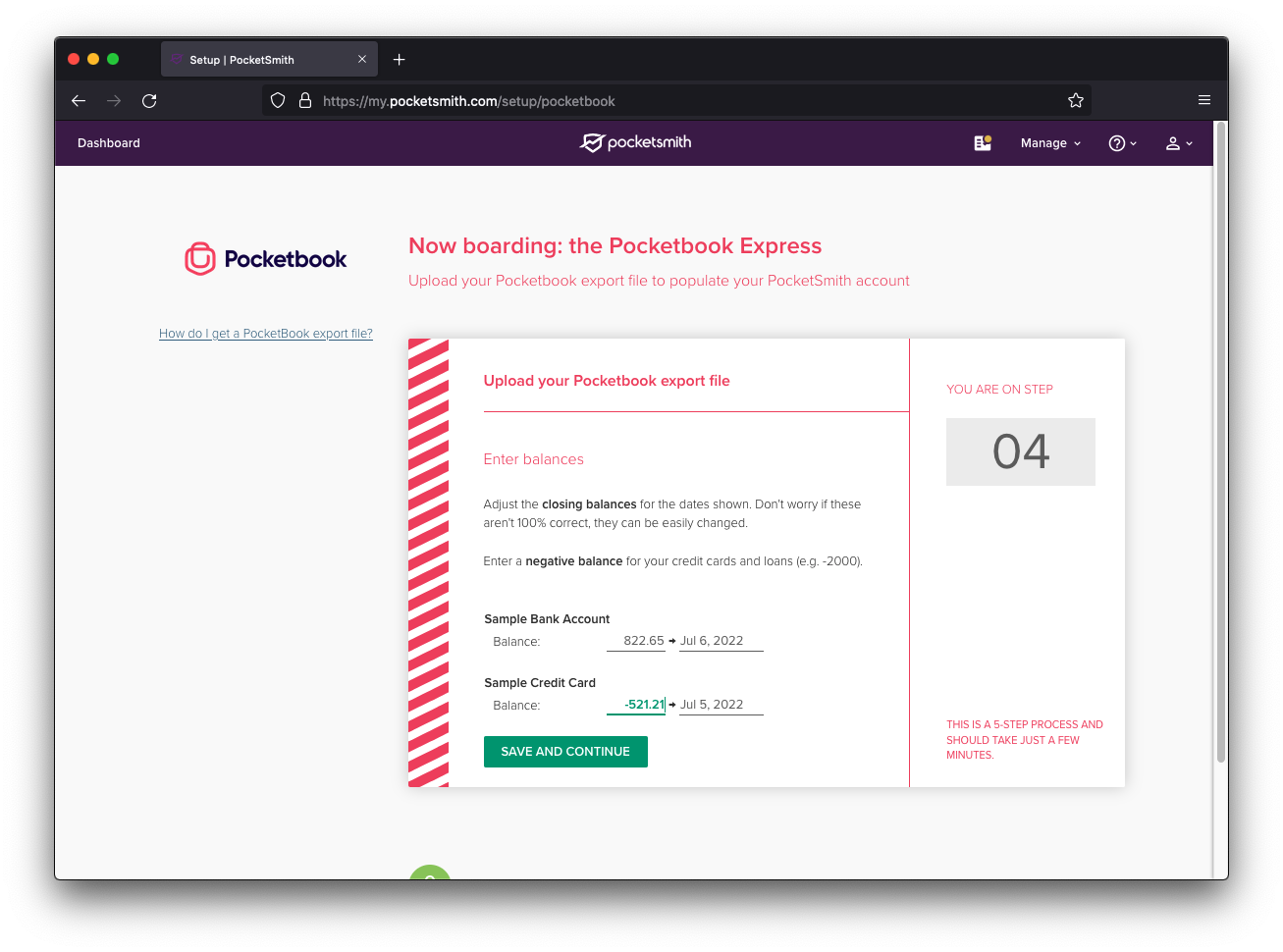 Setting balances after an import from Pocketbook
Rejoice! Your Pocketbook data is now in PocketSmith! You can head straight to your new Dashboard or peruse some of the other features under Reports. Once ready, move on to the next step — getting your initial budgets set up.
Step three: Start your budgets based on your data with a single click
In PocketSmith, each category has a budget — which is just a target of spending or earning you want to achieve for a particular category. Budgets are highly flexible and customizable in PocketSmith, and you can tweak each budget for each category to suit your needs. If you'd like, check out our budget tips and tricks article on the Learn Center.
To get started quickly, a great option is the auto-budget tool — if all your transaction data is accurately categorized. This analyses your entire categorized transaction history, calculates a suitable budget frequency and draws a line in the sand based on your previous spending. Once auto-budgets are set up, you can tweak and refine them from there. Now let's get stuck in!
Head to the Budget page from the main menu of PocketSmith.

Click the auto-budget tool link, from either the toolbar or the section at the top of the Budget page.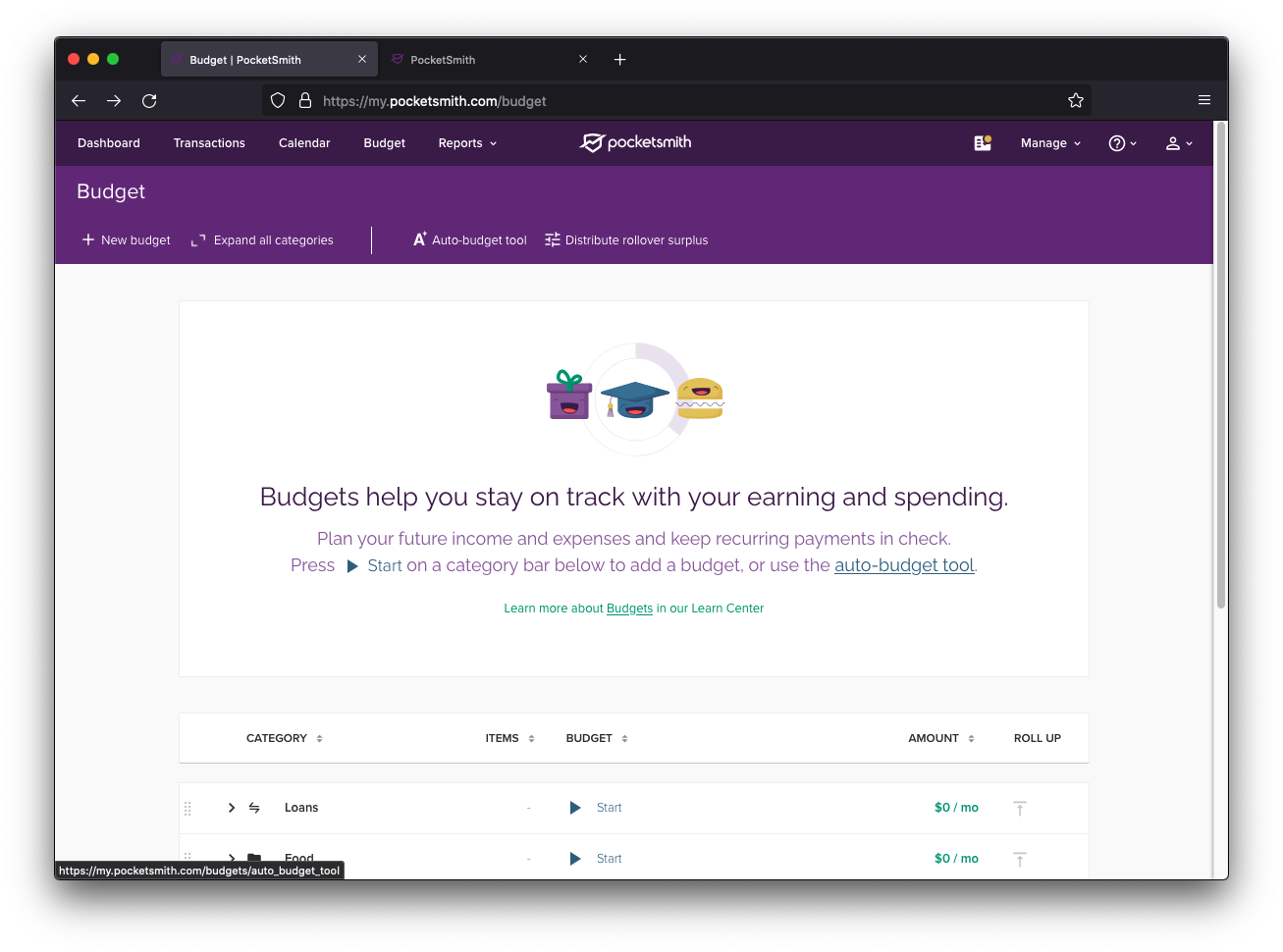 The budget page immediately after import
This will display the auto-budget tool popup — click the large green Start auto-budget tool button to start the budget calculation process. This might take a few moments, depending on how many transactions you have.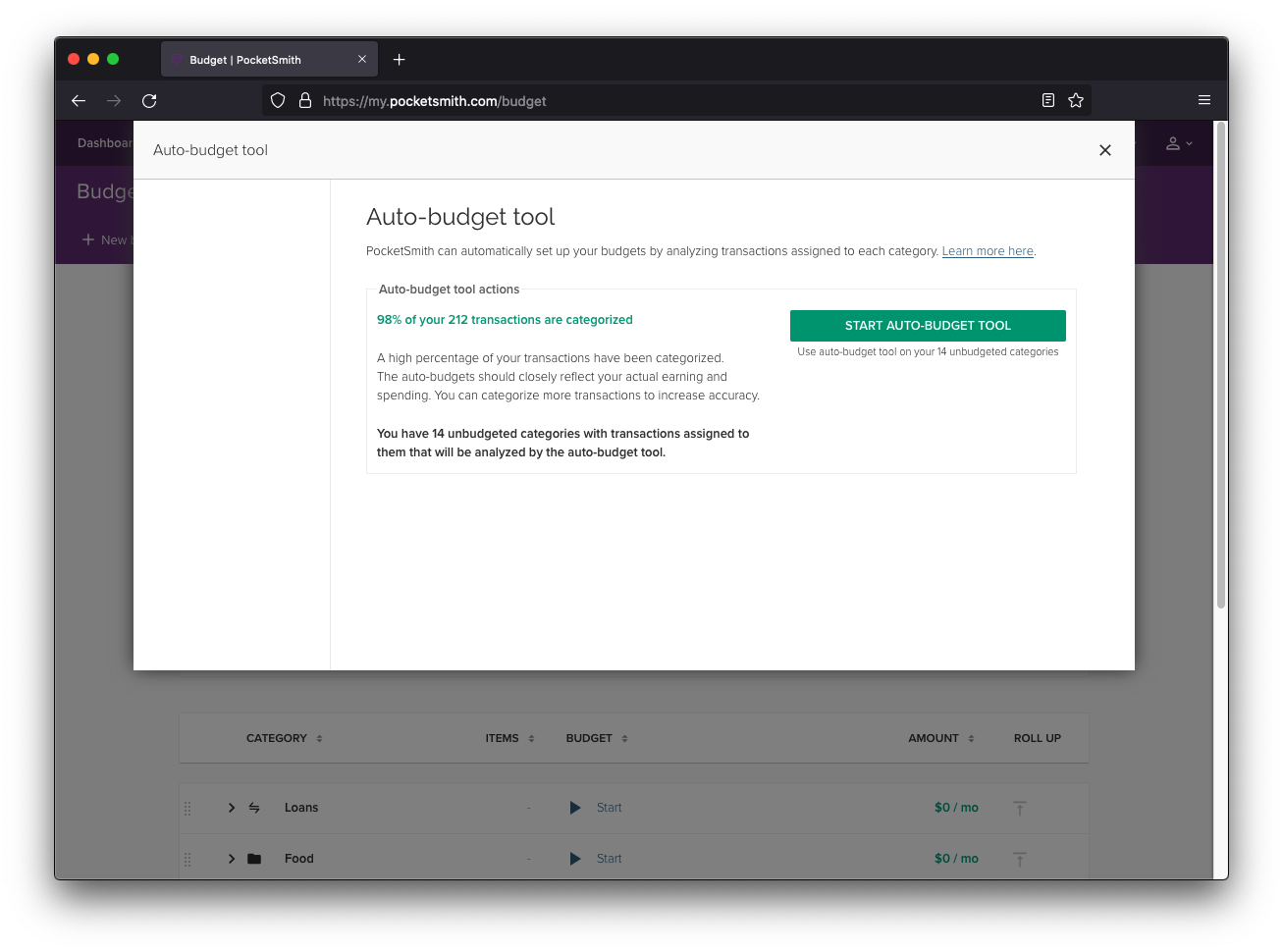 The auto-budget popup showing the confirmation button
PocketSmith will show your automatically created budgets in the popup window. If any budgets are in a category that you don't want to budget for — such as a large budget for Transfers — click the cancel dash icon that appears next to the budget when you hover over it. This will remove the auto-budget for that category, such as the "Household" budget in the screenshot below.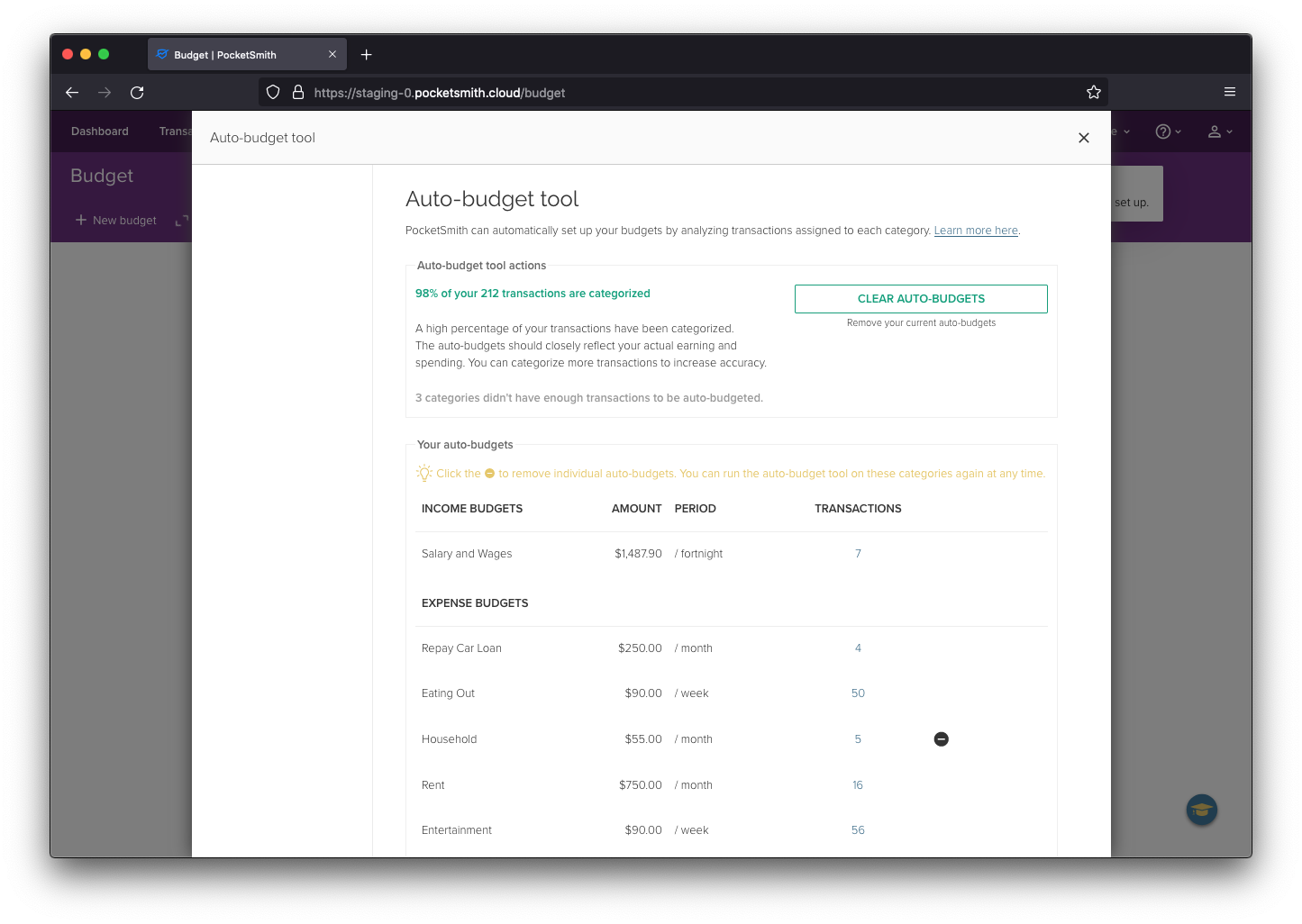 Automatically created budgets, showing the removal icon for "Household" budget
When you close the popup, you'll a budget analysis based your newly created budgets. You can edit a budget by clicking on the three-dot menu next to each budget and choosing "Edit / Delete budget". If you want to see the detailed historical analysis of any given category's budget, click on the category title.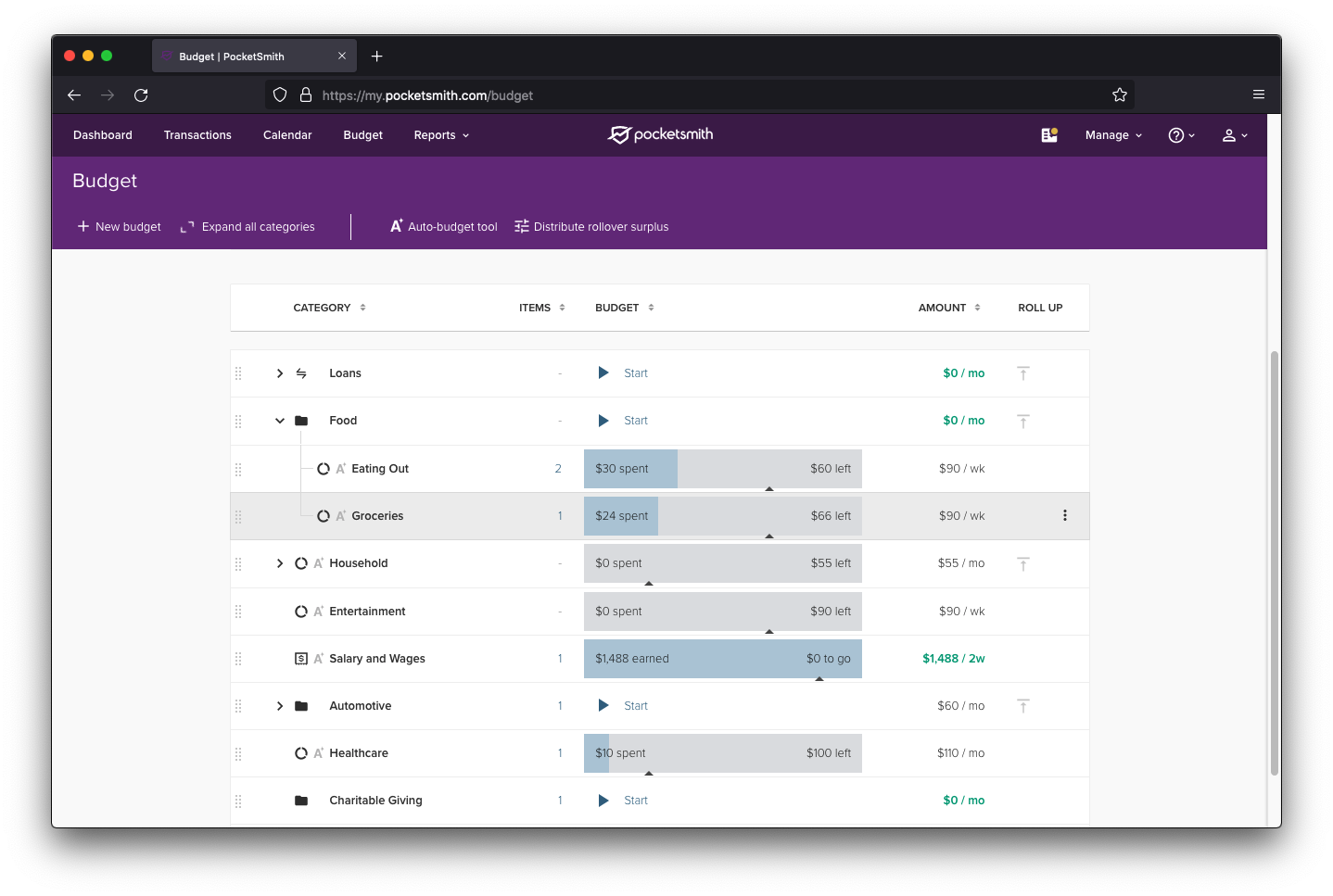 Created budgets shown in the main Budget page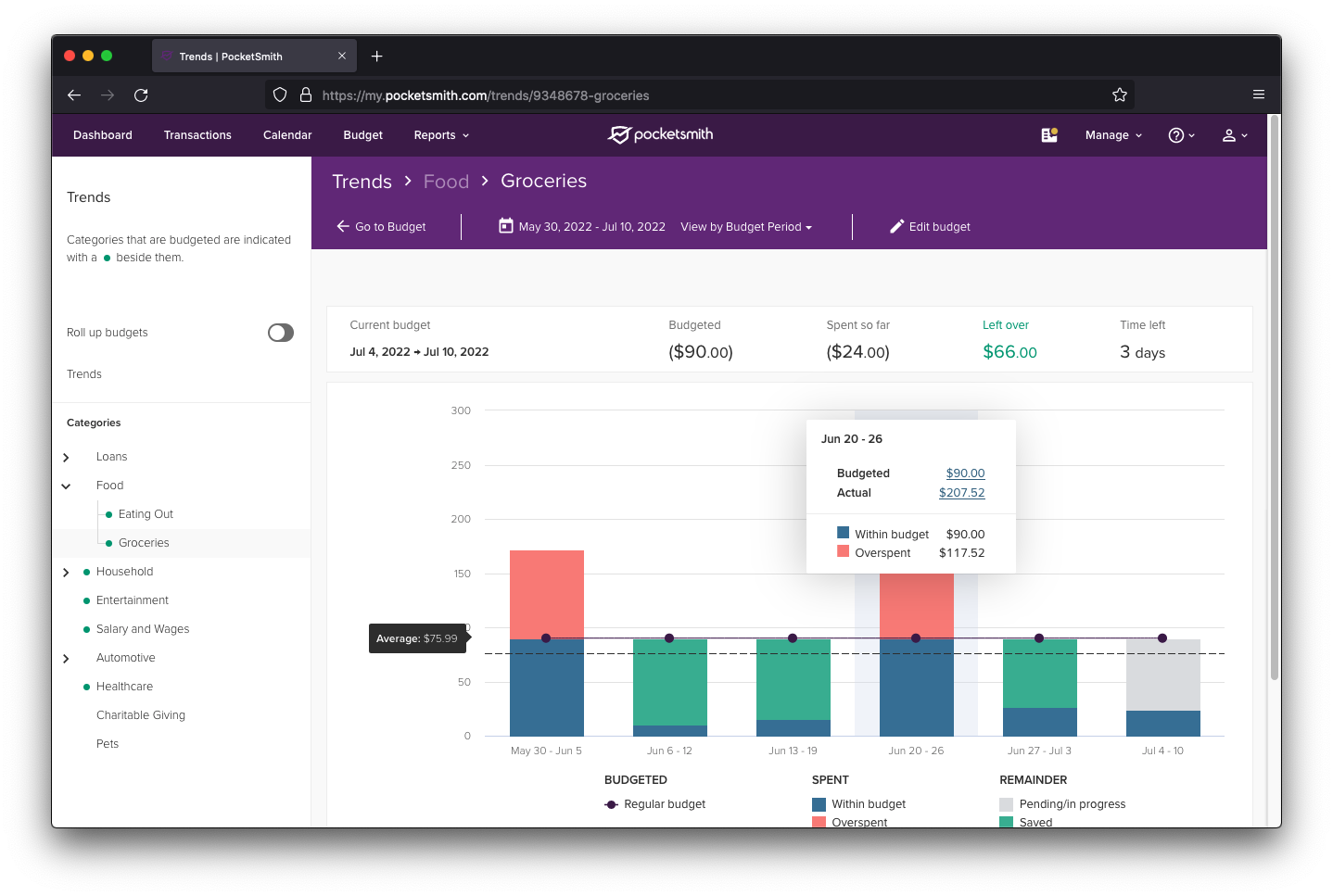 Drilling down into the historical analysis for the Groceries budget
Once you've checked out your budget analysis, head to the Calendar page to see your budgets in a different format. You can edit individual budgets here, if you need to make changes after the auto-budget process — either all instances of a budget, or a single one. Just click a budget in the calendar to edit it, and you'll be guided from there. It's also where one of PocketSmith's key features is clearest — your budgets come together with your current balance to forecast your financial future!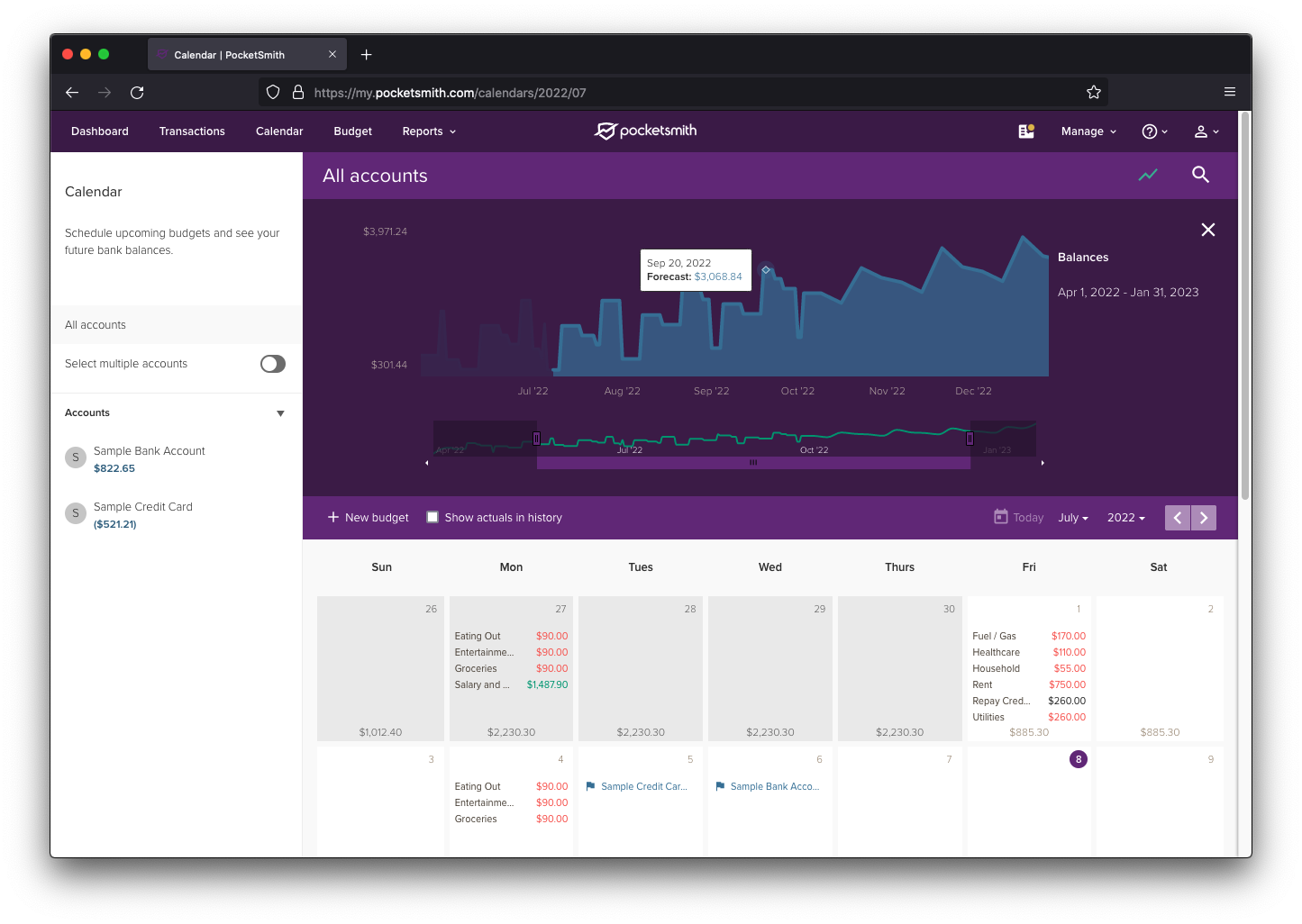 The PocketSmith calendar, showing budgets and the forecast graph
We've only scratched the surface of what PocketSmith can do with budgets here. From here, follow your nose and consult our Learn Center when you need to.
But now, let's get the accounts you've imported linked to a bank feed to start receiving new data.
Step four: Connect your accounts to a feed
Bank feeds are a premium feature in PocketSmith, only available on paid plans. Once you've upgraded or taken advantage of our special offer (please get in touch if you didn't see the prompt), head over to the Manage Feeds page to begin.
We have a complete step-by-step guide on our Learn Center illustrating how to get your bank feeds set up — if you're not the sort of person who likes to follow their nose. However, getting the feed added and authorized should be straightforward if you've set up bank feeds before in Pocketbook.
Once the feed is authorized, you'll be able to link up the accounts you imported from Pocketbook with the feed accounts found. This will ensure you won't have duplicate accounts or transactions — follow the guide on the Learn Center here.
Step five: Celebrate everything that PocketSmith can offer you
Well done, you made it! We hope that the transition to PocketSmith was straightforward for you. If not, please get in touch — we have a fantastic support team who'd love to hear from you.
We're keen to provide a smooth landing for all the people who've been with Pocketbook for years, so if there is anything more we can do to help, please let us know.
---

James is the CTO and co-founder at PocketSmith. He loves tech from software to hardware to music, and is passionate about technology being a net-positive in people's lives. He lives off-grid with two humans, two axolotls, two rabbits, one dog, and too many possums.