Managing finances across countries can seem complicated, but it doesn't have to be!
PocketSmith's extensive multi-currency features allow you to view all of your accounts, assets, and liabilities in one place. You can manage multiple streams of income and financial obligations across currencies, as well as gaining a complete one-currency view of your financial position.
Whether you're living overseas, you've recently moved back home after a long stint of working abroad, or you have overseas or crypto-currency investments, let's check out how you can remove the guesswork and keep track of all of your finances with PocketSmith.
Getting started with multi-currency
The first step is to check you've set up your base currency correctly, which is the default currency for your PocketSmith account. Your budgets, reports, and overall net worth balances are shown in your base currency. Usually, this will match the country in which you reside.
Multi-currency is automatically enabled, so all you need to do is add any overseas accounts to your PocketSmith, and we'll handle the currency conversion for you.
For example, Frankie has recently moved from the United States back to New Zealand and wants to keep track of all her finances in one place. She's added all her NZD accounts but now wants to take stock of the finances she still has in the US.
Frankie adds her US bank accounts: a savings account, a transactional account, and a mortgage account for a property she owns. She can now check out her account balances, both in USD and in the converted NZD amount throughout her PocketSmith account - neat!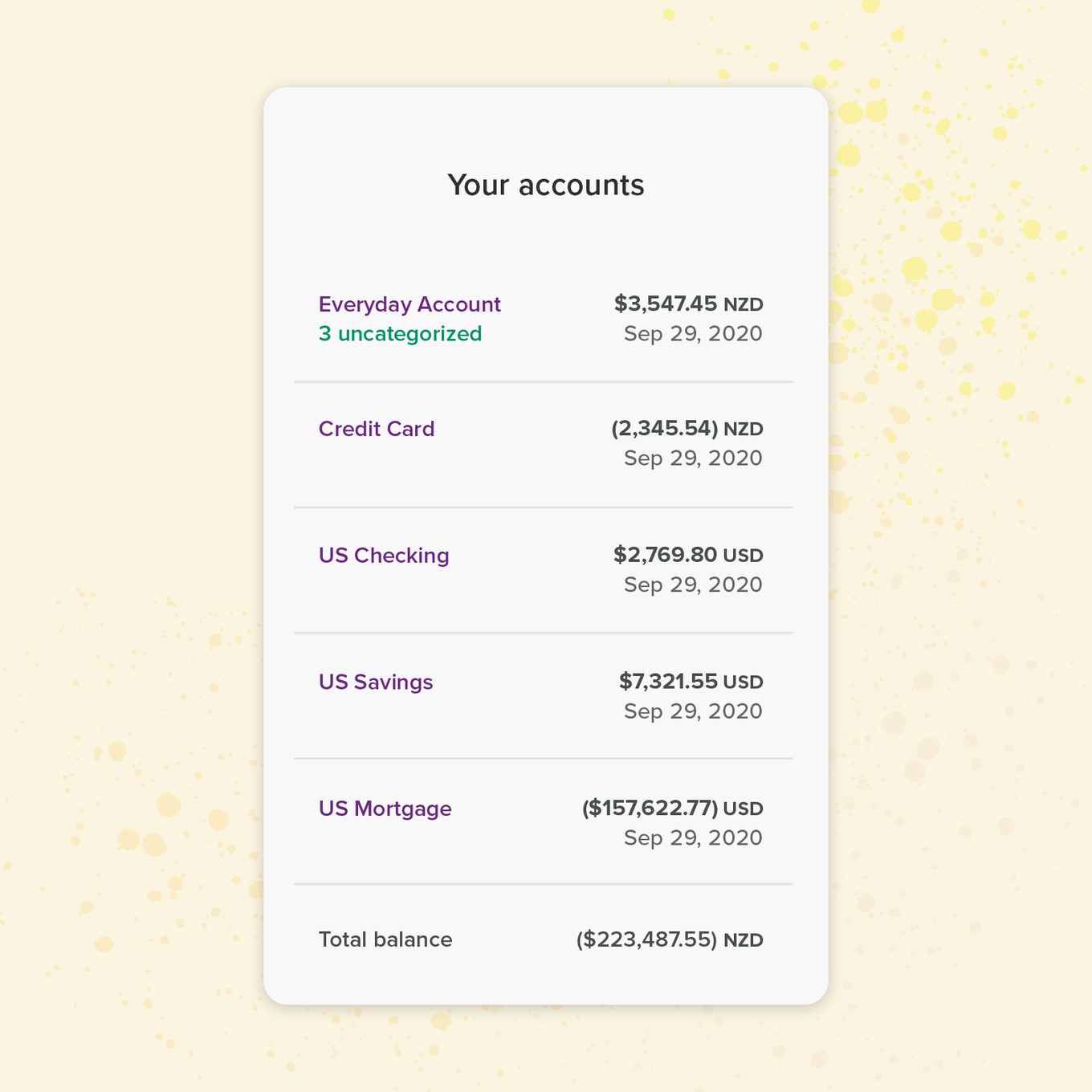 You can choose to view your multi-currency account balances and transactions in their native currency (like Frankie has above), or you can opt to view your account balances and transactions already converted to your base currency.
Account balances and transaction totals throughout the application have a tool-tip showing you the original or converted amount, depending on the option selected.
Keep track of assets and liabilities for a complete financial picture
Assets and liabilities also support multi-currency. If you have property or shares overseas, or bank accounts that can't be updated using bank feeds or bank files, you can add these via the Net Worth page.
For example, Frankie has a townhouse in Atlanta that she now rents out. She adds this as an asset so that it is included in her overall Net Worth. The asset value is in USD, which is converted to her base currency of NZD when calculating total Net Worth.
Income and Expense across currencies
Put the calculator away! PocketSmith's Income & Expense statement allows you to easily keep track of multiple income streams and related expenses, even across currencies.
At a glance, Frankie can see her salaried income in NZD, as well as rental income from her townhouse in Atlanta converted from USD into NZD. She can also keep track of any expenses related to the property.
Category totals are converted to the base currency so you can see the whole picture in one currency.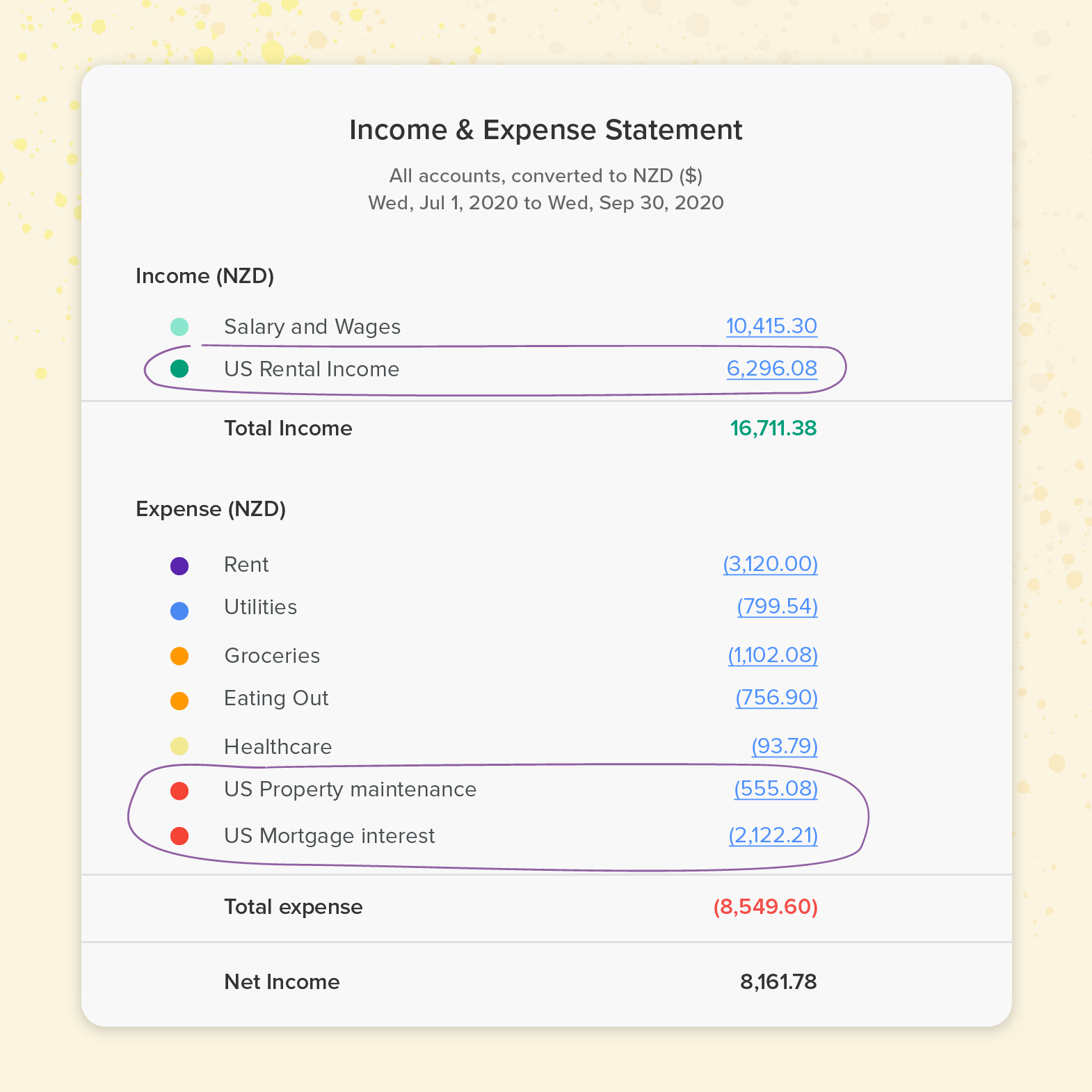 Taxes to file in multiple countries? PocketSmith can help!
If you've got finances across the globe, you may have tax obligations in more than one country. Tracking your finances in PocketSmith means you can pull out the relevant data to give to your accountant, taking the stress out of tax-time.
Assign tax-related transactions to specific categories, or use labels to identify tax-deductible items and then use PocketSmith's reporting or search features to view your totals. You can also upload receipts to transactions for record-keeping.
Forecasting across currencies
PocketSmith's forecasting features allow you to see your financial position for up to 30 years in the future.
Beginning with your current balance, plus or minus budgeted earning and spending, PocketSmith allows you to view how each of your account balances is projected to change over time. This means you can see how long it will take you to pay down a loan or reach a savings goal, or you can view what your overall Net Worth is likely to be should you stick to your budget. Any native currency accounts are converted to the base currency for totaling - giving you a one-currency view of your Net Worth.
For Frankie, this means she can use the Forecast graph to see how close she will be to paying down her mortgage in ten years.
She's added budgets to reflect her rental income, loan interest, insurance, and taxes. With all of this taken into account, Frankie can see how her mortgage balance reduces over time should she stick to her current repayment schedule.
View currency fluctuation for overseas accounts
Suppose you've got foreign currency accounts, and you have the option to 'show native currency in base' selected. In that case, you can hone in on an individual account in the calendar to view the changes over time due to currency fluctuations.
For example, if Frankie had gold holdings, she could view only this account on the calendar and see how the value has changed over time.
Take the complexity out of managing global finances by letting PocketSmith's multi-currency features do the hard work for you.
We've only scratched the surface of what's possible! For additional detail and insight into how it all works - check out our Learn Center.
Get started today and gain clarity over your finances, everything in one place - no matter the currency!