It's time to prepare your defenses — so you can snatch up the incredible shopping deals and ignore ALL the rest! Because you know as well as I do that during the heat of the Black Friday mayhem, with the barrage of emails screaming "buy now", it's far too tempting to buy stuff you just don't need!
Black Friday is an opportunity to purchase at a far better price, but if you are not careful, it can both ruin your finances and clutter up the landfill with junk that neither you nor the planet needs right now.
When is Black Friday?
Here in New Zealand, it begins on Friday, 26 November and is followed up by Cyber Monday on 29 November. The rest of the world usually follows this timeline as well.
Don't bother looking for the historic meaning for these particular days in the calendar, the only reason behind these shopping days is consumerism!
It started in America and is a sales period that falls on the Friday following their Thanksgiving celebrations. However, the sales and marketing departments across the world have seen it as an excellent opportunity to move a lot of products for retailers. There will be some great discounts and deals offered for a short period with the express purpose of getting people to whip out their wallets and spend up as large as possible.
If you don't have your wits about you, Black Friday and Cyber Monday can lead to Broke Wednesday.
It's hard to miss Black Friday and Cyber Monday
If you've subscribed to mailing lists of retailers (particularly those in the tech space), your inbox will start to bulge with tempting Black Friday deals. You might find that you're about to suddenly have thoughts like, "Oooo, I DO need new headphones", "My TV is suddenly too small" or "My laptop/fridge/sofa/vacuum cleaner needs an upgrade".
Whereas sales used to start on the date they said they would, now they will offer them in the weeks both before and after Black Friday, thus increasing the temptation. You have been warned!
You need a Black Friday game plan
Both online and in-store Black Friday deals are fantastic for organized people who need things. You can enter the month of November one step ahead of your shopping competition if you have a game plan. And it can be quite fun to know you have found the best deal on offer.
These big sales are a chance to save money, purchase and set aside Christmas gifts for family and friends, plus grab those items you have wanted to buy for yourself. Think long and hard about what you actually need.
Your game plan will consist of creating a list of items and researching the current non-sale retail price of them.
By tracking the prices of items on your list in the months leading up to Black Friday, when the thing you want goes on sale, you can see at a glance whether it's a genuine bargain or not.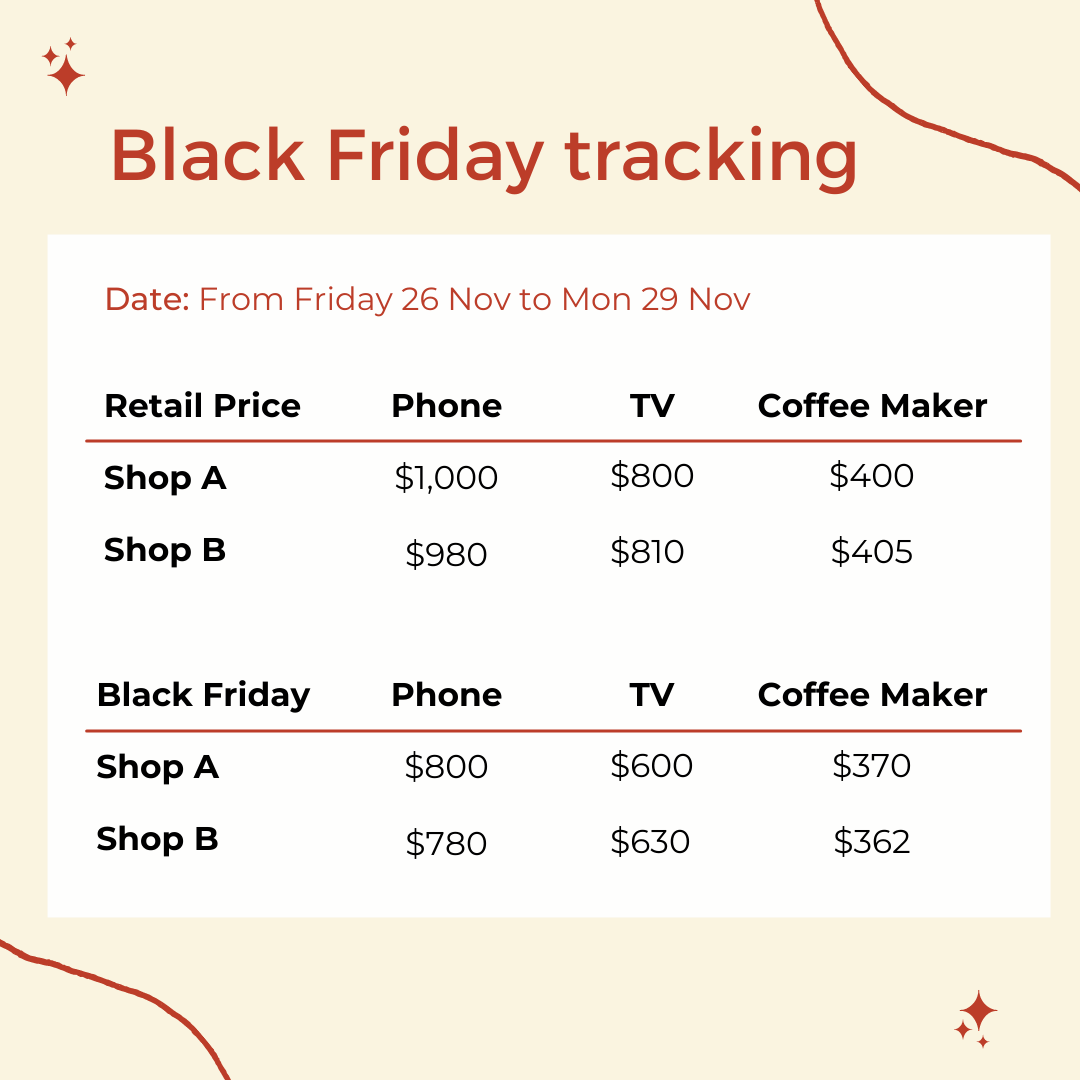 Sign up to mailing lists
For the latest offers, sign up for the mailing lists of your favorite retailers. For the super shoppers, you could check out the many blogs specifically written for Black Friday shopping with tips about how to be primed and waiting to launch yourself to the head of the instore or online queue and hit BUY ahead of the rest. You might even sign up to comparison websites as well.
Set your budget and stick to it
Now that you know the price of the items you want, use that to set your max budget, then make sure you stick to it. If there are alternatives (a non-branded item that's the same), put that on your watchlist too, in case you don't get your first option.
Because you put thought into what you needed long before the sales began, you are less likely to get sidetracked by other special offers and more likely to stick to your budget. We have a phrase in our house when we go shopping:
If it's not on the list, it doesn't exist.
If you didn't know you wanted it until you saw it, you definitely don't need it! These significant sales events are the best time to save money on those things you have been saving up to buy but they are also a huge trap for those with a credit card in hand and an urge to spend.
I received a text from an American friend recently which should serve as a bit of a warning:
"It was Amazon Prime Day this week, and I think we had 30 packages arrive. Oooooops!"
Unsubscribe and unplug from the frenzy
When the hectic sales period of both Black Friday and Cyber Monday have passed, it's time to prevent temptation and unsubscribe from every email list and declutter your inbox. I like shopping for myself, friends, and family and it's a buzz when packages turn up, but I hate that sinking feeling I get if I know I've bought into the hype and overspent and I may be paying the price for the next few months or even years.
Remember that marketing departments and algorithms make it their job to get you to buy their stuff, so beat them at their own game, get just what you planned to buy anyway and then brag to your friends about the incredible deals you snagged yourself.
Track your Black Friday spending in PocketSmith
If you really want to conquer Black Friday, your game plan should extend past the pre-planning stage. By using PocketSmith to track your transactions, you can make sure that you don't go overboard with your spending. You can tag your Black Friday purchases with a label, and then create a saved search to see how much money you spent during the sales period.
You'll be able to see at a quick glance what you've already bought and when it comes to next year's sale, you can look back and decide whether you need to make any adjustments to your spending.
A final thought for all the shoppers out there
Shopping Black Friday sales are ONLY worth it if you need something. Mindless consumption is just not cool anymore, and the thing you bought is only a deal if you actually needed to buy the item in the first place!
It's effortless to get sucked into spending money you had not intended to spend, and you can easily be left with a credit card hangover if you go mad during these sales. Therefore, if you know that shopping is a weakness of yours, stay away, but if you have planned the purchase and worked out that it's a valid and considerable discount, this could be a real opportunity to buy the item you needed at a fantastic rate. Good luck, may the shopping gods be on your side!
---
Ruth blogs at thehappysaver.com all about how she and her family handle money. What's the secret? Spend less than you earn, invest the difference, avoid debt and budget each dollar that flows through your hands. She firmly believes that if you can just get the basics right, life becomes easier from there on in.