Calling all accounting fans! Have you ever looked at your personal bank account and wondered: "Where has all my money gone?"
We work and we work and we earn and we earn. And yet, for some reason, money seems to disappear right out of our pockets. It's common for many of us to feel like we're not able to enjoy the fruits of our labor. Fewer of us manage to even hit our savings goals.
So in today's article, I've partnered with PocketSmith in helping you leverage home accounting software for personal budgeting.
Home accounting software helps you meet your financial goals
If you're a regular reader of my blog, you've probably set up some financial goals of your own. Having a home accounting software setup means that you can keep track of how much money you are putting away towards those savings goals.
More crucially, home accounting software helps you keep track of two VERY important aspects of personal finance: your income and your expenses.
Tracking your income
Income! This is the money coming into your personal bank account. This can be money you receive from your day job or side hustle. Drawings or wages that you take out of your business are considered to be your income too. You can even count supplementary money you get from things like selling your old items as income as well. Tracking your income lets you know if you have enough money to cover your expenses and regular payments like transfers into your savings account.
Tracking your expenses
Expenses are the opposite of income! This is the money going out of your personal bank account. Any money that you spend on rent, groceries, fuel and similar costs is money that you spend to keep your family going! Expenses can also include larger purchases like a new PC or a new stove. Keeping tabs on your expenses can help you stick to your budget and identify spending habits.
Keep track of surplus too
In many ways, running a family is like running a business. However, unlike a business, you're not looking to make a profit in your family. What you are looking at making is a surplus. A surplus is what happens when you have more income than expenses. With a nice surplus, you have money to put away into savings.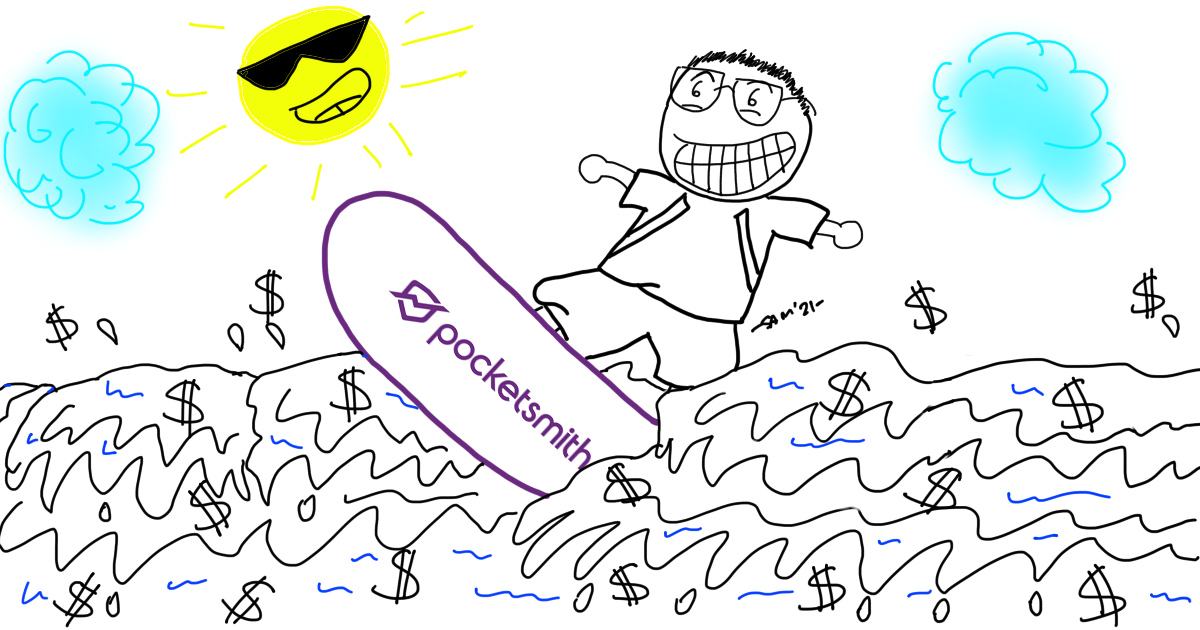 Home accounting software simplifies the record-keeping process
Before the advent of accounting software, we'd keep track of our income and expenses in our cash books. Some of us kept receipts to make sure that we could keep track of our spending.
With the arrival of spreadsheets, many smart home accountants built their own cash books digitally. My dad still uses an Excel sheet to keep track of his funds to this day. However, modern accounting software has many advantages over the classic spreadsheet.
Advantage #1: Automated bank feeds
Arguably the most important feature of any home accounting software is bank feeds. Bank feeds are a recent innovation that allows accounting software to get direct bank transaction feeds from your bank — no manual work on your part. PocketSmith has a robust bank feeds system powered by their Data Connections platform, which allows you to connect to bank feeds from up to 49 different countries.
Bank feeds are a great tool. Before bank feeds, I had to manually import statements into accounting software to get my transactions recorded. IT WAS A PAIN. What was even worse was having to reconcile my balance in my accounting software with my actual bank account. UGH.
With bank feeds, I don't have to worry about that anymore! Now it's just a matter of simply categorizing the feeds to the right account as they come in.
Advantage #2: Reporting at the touch of a button
Remember how I said keeping track of your income and expenses is important? Well, with home accounting software you can turn that data into meaningful insights with automatic reporting features.
With PocketSmith, you can easily generate an income and expense report which shows you how much your household has made over a period of time, or you could make use of the dashboard feature that shows a pie chart that represents your income and expenses over the past month! Whether you're a numbers or visuals type of person, you can digest your data in a way that works for you.
Advantage #3: Easy budgeting and forecasting
Once upon a time, we budgeted on pieces of paper. And we kept those papers away in safe places, hoping we'd never see them again (and be reminded of how we didn't stick to it).
With home accounting software, budgeting is so much easier.
Budgeting in Pocketsmith is as simple as setting an amount for a category for a period of time. Once the budget is set up, you can easily monitor how much you've spent versus what you've budgeted on a real-time basis. This means that there are no surprises at the end of the budget period, and it's easier to stick to your household budget.
PocketSmith takes this one step further and even does a forecast projection of your future bank balance based on your current spending. Forecasting your finances helps you see whether your wealth is growing and if you have enough money for upcoming or unexpected expenses. When you're looking towards the future, you can be better prepared for it.
Home accounting software gives you peace of mind
You can put away that error-prone spreadsheet you've been using and you don't need to track down receipts in shoeboxes anymore. Everything you ever needed to manage in your home finances can be summarized for you with an awesome home accounting software. With the software doing most of the heavy lifting for you, all you need to worry about is categorizing the bank transactions into the right categories.
As with adopting any new tech into your routine, PocketSmith has a bit of a learning curve but fortunately, the folks have sorted a great resource page for anyone looking to start using their software.
If you're keen on bringing order to your household finances and directing your energies towards achieving your financial goals, then investing in a good home accounting software is the best place to start.
Build that financial confidence and stay positive, team!
---

Sam is the director of SH Advisory, an online accounting firm for small businesses and startups in NZ. He is also the creator of The Comic Accountant, an internationally-read finance comic blog. With 15 years experience in accounting and finance, he loves sharing quality financial advice with small business owners everywhere. In his spare time, he likes to nerd out over the latest board game launches and great PC gaming deals online. If you need help with your small business and startup, Sam is the person you want to talk to!